CRM software Development offers important metrics that can be used to boost productivity, increase profitability, and more accurately assess your company. However, it is crucial to select the most effective platform for your company to achieve the most results from your CRM software.
Select from a variety of CRM options. This implies that you should thoroughly consider, investigate, and weigh your options. It's common for you to have to teach all of your staff about the new system after installing CRM, thus it's essential to pick the best CRM first. CRM software evaluation techniques are something to be aware of.
What elements should a CRM system have?
You must reduce your options before you can evaluate the best CRM selections. Making a list of the essential features you want your CRM to have is one of the best ways to do this. You may cut out some bad CRMs from there and find the good ones.
The business organization and the issue that CRM is intended to solve have a role in software development. Field service firms frequently appreciate the following elements: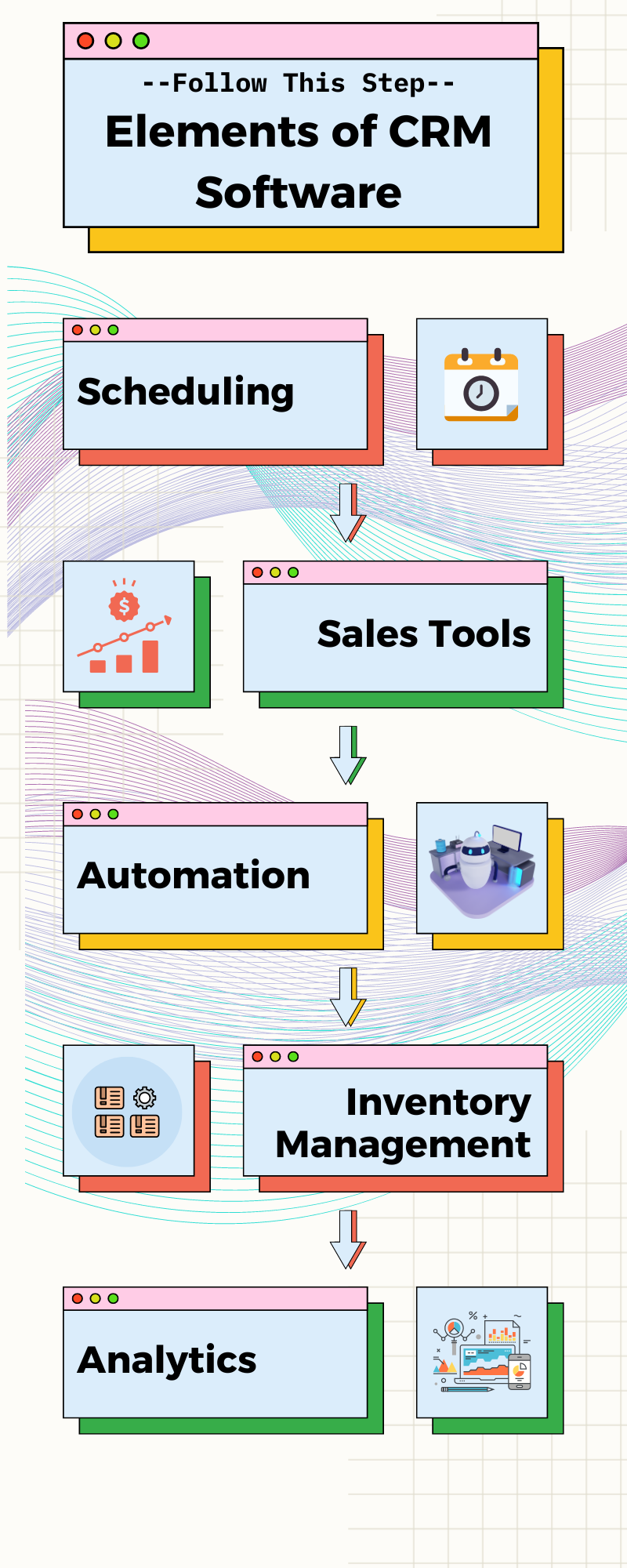 1. Scheduling:
The finest CRM for field service organizations facilitates and improves scheduling. One of service organizations' main hurdles is managing schedules, but a competent CRM can help you with some of your scheduling issues.
Find a CRM that enables your field techs and the rest of your staff to view your live schedule. When you call a client, consider how quickly and easily your team can plan and schedule.
Technicians can more strategically schedule their appointments to cut down on travel time with the use of additional capabilities like intelligent route planning. Maximize your technician's daily billing time and maintain an accurate schedule.
2. Sales Tools:
CRM may improve the efficiency and accuracy of your sales efforts, whether you are closing new leads into customers or offering service enhancements to current clients. For efficient lead management, high-quality CRM can monitor everything from a follow-up to consumers in the sales pipeline.
Consider the tools that will be most beneficial to your sales team. Your team will benefit from saving time thanks to automatic lead contact, detailed data collection tools, and pre-filled forms and contracts.
3. Automation:
CRM automation can benefit your company greatly. Employees can save time and concentrate on more crucial duties by automating monotonous tasks like phone calls and emails that serve as reminders.
You might be able to automate processes like calendar notifications, call recording, billing, appointment confirmation, and reminders, depending on your CRM. This automation improves productivity by streamlining workflows and speeding up responses.
4. Inventory Management:
CRM must also include or incorporate a warehouse management system. For service businesses, inventory management presents a significant problem, however, it can also affect client satisfaction and service times.
Find a CRM that offers precise digital inventory management. By giving field technicians access to inventories, you can be sure you have the tools and supplies you require. Additionally, you can prevent running out of replacement components to give your clients superior service.
CRM is capable of recording all data, from appointment calendars to sales representatives, and delivering a thorough and in-depth analysis. This study can then be used to pinpoint areas where your processes can be strengthened and to better gauge your company's success.
CRM can monitor a variety of analyses. Make sure CRM offers the specific analysis you're looking for. Additionally, some CRMs provide a range of reporting possibilities.
Look into the adaptability of analysis reports. This is helpful for updating stakeholders on actions as well as tracking them.
CRM Software Evaluation Criteria
When reducing the number of CRM possibilities, compile a list of the best CRMs. Give a brief summary of the criteria you intend to apply before allocating a point or percentage value to each CRM for each criterion. The ideal CRM for your company can be found by adding these points or percentages.
Your company requirements and CRM objectives will influence some of the metrics you use. In order to choose the finest CRM for your company's needs, we might apply a ranking system and place more weight on some aspects than others.
It's also crucial to take into account a few requirements that CRM must fulfil when it becomes a practical alternative for your company. If so, start your evaluation with these necessary standards. As a result, your CRM options will be more focused.
1. Implementation Period:
Examine whether you can switch to your new CRM by your desired implementation date if you have one. This will enable you to decide whether you can help your provider stick to your intended schedule or whether your goals need to be adjusted.
2. Data Protection:
It is crucial to always take into account the data security that CRM offers. Layered security measures, two-factor authentication, and contemporary security procedures helps stop costly and reputation-damaging data breaches.
3. Linking to your other platform:
CRM is typically the main system for your company, but if you also use System Design or Field Management Software Platform, it should be integrated. Check out the integration options for each CRM you are thinking about. These linkages improve workflows and keep staff focused all day long.
4. Scalability:
In addition to choosing the best CRM for your present business, your platform must also be able to expand along with it. When it comes to the number of users, the volume of data kept, and the complexity of reporting and planning capabilities, look for a CRM that is expandable. You won't have to worry about transferring to another platform when your firm expands because you know CRM can grow with it.
5. Price:
Do not solely evaluate CRM software based on cost. Additionally, despite its high price, don't disregard the CRM option. Even though some of the greatest CRMs are more expensive, they provide significantly greater value for money. Finding a CRM that fits your budget is crucial, but don't forget that boosting lead conversions, automating processes to save up employee time, and enhancing customer satisfaction all have enormous value.
How do you choose the best CRM for your company?
It can be difficult and time-consuming to select the best CRM for your company initially. However, it is simpler to manage if the procedure is divided into parts. Never forget that the CRM software you use can have a huge impact on your company.
The right CRM will help you optimise your workflow, improve accuracy, transform leads, and give meaningful data and KPIs. It will also have the tools and capabilities your business need. CRMs that don't work well won't be able to help you with some of the common problems you run into when managing your business. Additionally, the platform's rate of return on investment will be modest.
WRAPPING IT UP:
When examining and analysing a CRM software development proposal, it is crucial to consider factors such as the proposal's clarity, scope, functionality, scalability, cost-effectiveness, and alignment with business objectives. A thorough evaluation of these aspects will ensure the selection of the best CRM software development proposal for your organization's needs.