It's no surprise that chatbots are now quite popular. They pop up in the corners of websites or show up embedded in messenger apps. Relying on computer code and a set of predefined responses, they're capable of holding engaging, interactive, and human-like conversations on chat interfaces. According to exclusive BI Intelligence survey data, chatbot adoption has already taken off in the US with more than half of US users between the ages of 18 and 55 who have used them at some point or another.
Messenger apps and chatbots have become so popular that customers expect nothing less than free-flowing messaging style communication with brands.
The increase in the use of messaging apps, improvements in AI, and people's desire for immediate customer support all contribute to the popularity of chatbots. The network effect of messaging platforms has led to a continuous increase in their reach. This presents businesses with a massive opportunity to engage with customers and increase brand awareness and smart brands are leveraging this reach in marketing, support, and sales.
Today's customers increasingly expect personalized service. They want immediate responses. They want to communicate with brands when it's convenient for them and where they're comfortable. According to Hootsuite, 69% of respondents said that direct messaging with a company helps them feel more confident about the brand. A smart sales team knows that the ability to meet these conditions could dictate how effectively its message is received by the potential customer and whether or not a sale is ultimately won. This is where a Messenger-Based Sales strategy steps in. With the current messaging trends, the opportunities are endless. But let's not get carried away with them just yet.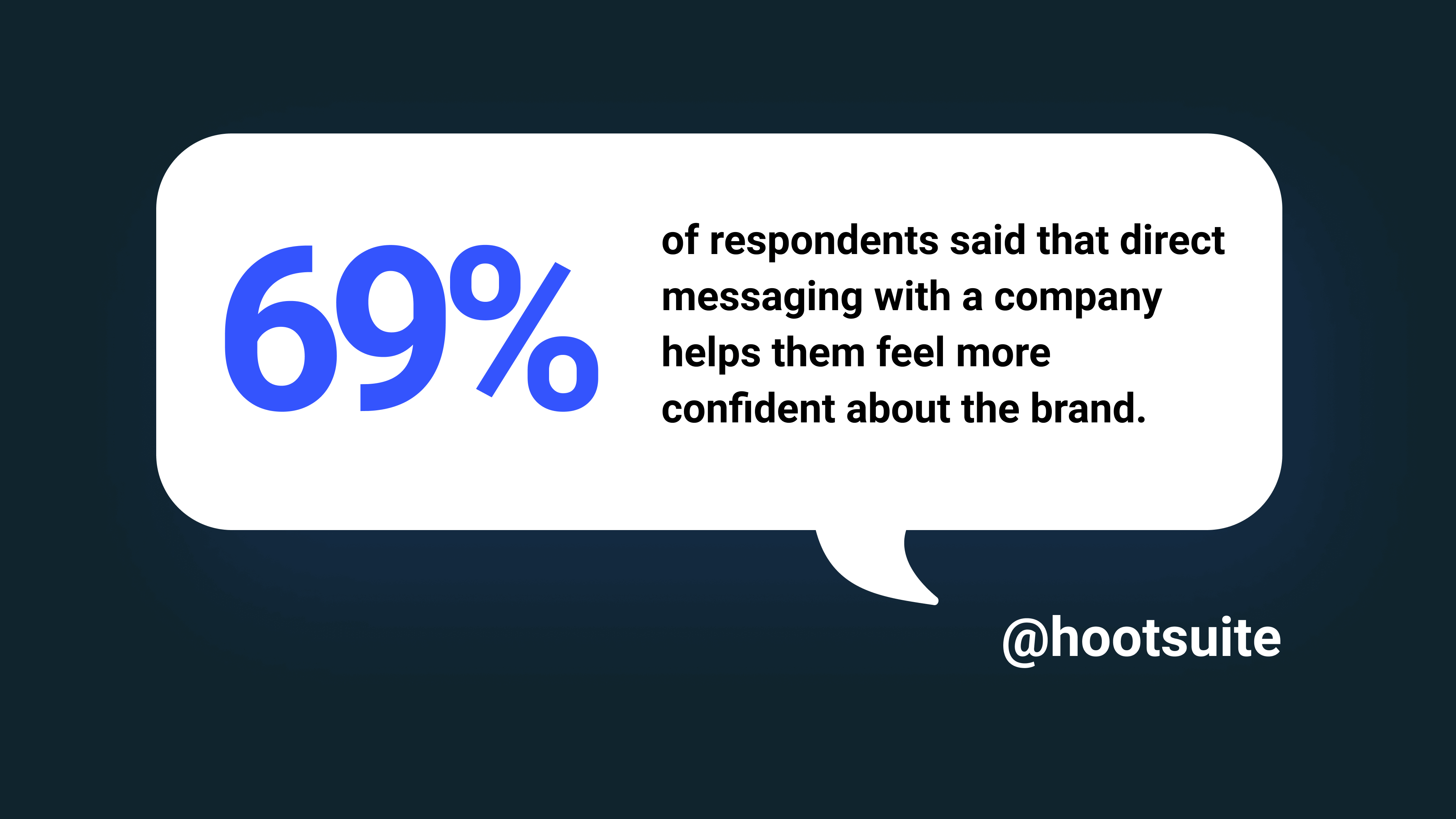 According to Hootsuite, 69% of respondents said that direct messaging with a company helps them feel more confident about the brand.
Messenger-Based Sales
The essence of a Messenger-Based Sales strategy is delivering a personalized experience throughout the customer's journey from the beginning stages of discovery, through engagement, to purchase and to the formation of a long-term relationship. Salesbots are the perfect medium to make this happen in a messaging-dominated social space. They are AI-powered chatbots that have the ability to carry out sales workflow tasks such as engaging leads, qualifying leads, and, in some cases, closing deals or connecting the leads to available sales reps.
Now that you know what salesbots are, it's easy to see how implementing them in your sales process can benefit your business. Let's dive deeper into a few of these reasons.
Improved customer engagement
Personalized engagement is the key to Messenger-Based Sales. Without the need for forms or emails, your salesbot can engage a potential customer early on from the moment a prospective customer lands on your website or Facebook page. The salesbot kicks off a one-to-one conversation and allows the prospect to become engaged quickly thanks to the promise of receiving a fast and intimate response. During the interactions, the salesbot can capture information about leads for scoring and nurturing. Based on this information, the salesbot passes qualified leads to a sales rep with helpful context already attached.
What's more is that salesbots function 24/7 and provide service to multiple people simultaneously. So it's round-the-clock engagement versus 9/5 sales rep availability. What would you pick? Whatever your choice is, every visitor on your website or Facebook page is a potential lead if you have your salesbot running. Given the time-sensitivity of leads, you can rest easy knowing your salesbot will immediately respond to any questions coming from your potential customers 24/7.
Round-the-clock engagement versus 9/5 sales rep availability – what's your pick? Whatever your choice is, every visitor on your website or Facebook page is a potential lead if you have your Salesbot running. #messengerbasedsales
Tweet this!
Automated sales workflow
Sales automation just got easier and smarter. The ability of AI-powered salesbots to assist your sales reps with the sales workflow is one of their superpowers. They bring intelligent and automated assistance to your sales pipeline. Salesbots can engage website visitors, collect lead information, qualify leads and connect them to a salesperson by either setting a task for them or notifying them when a lead has been moved to another stage in your pipeline. Your sales reps can now wake up to a list of appointments with qualified leads. How awesome is that?
It's incredibly easy to harness the power of your salesbot. All you need to do is deconstruct your sales process and figure out which routes you want your potential leads to take. For example, Salesbots can drive organic traffic to your website. When a visitor lands on your Facebook page, your salesbot engages them in a conversation. It could redirect the lead to a product comparison page on your website. On this page, another salesbot engages and invites them to try the product or asks if they have any questions about it.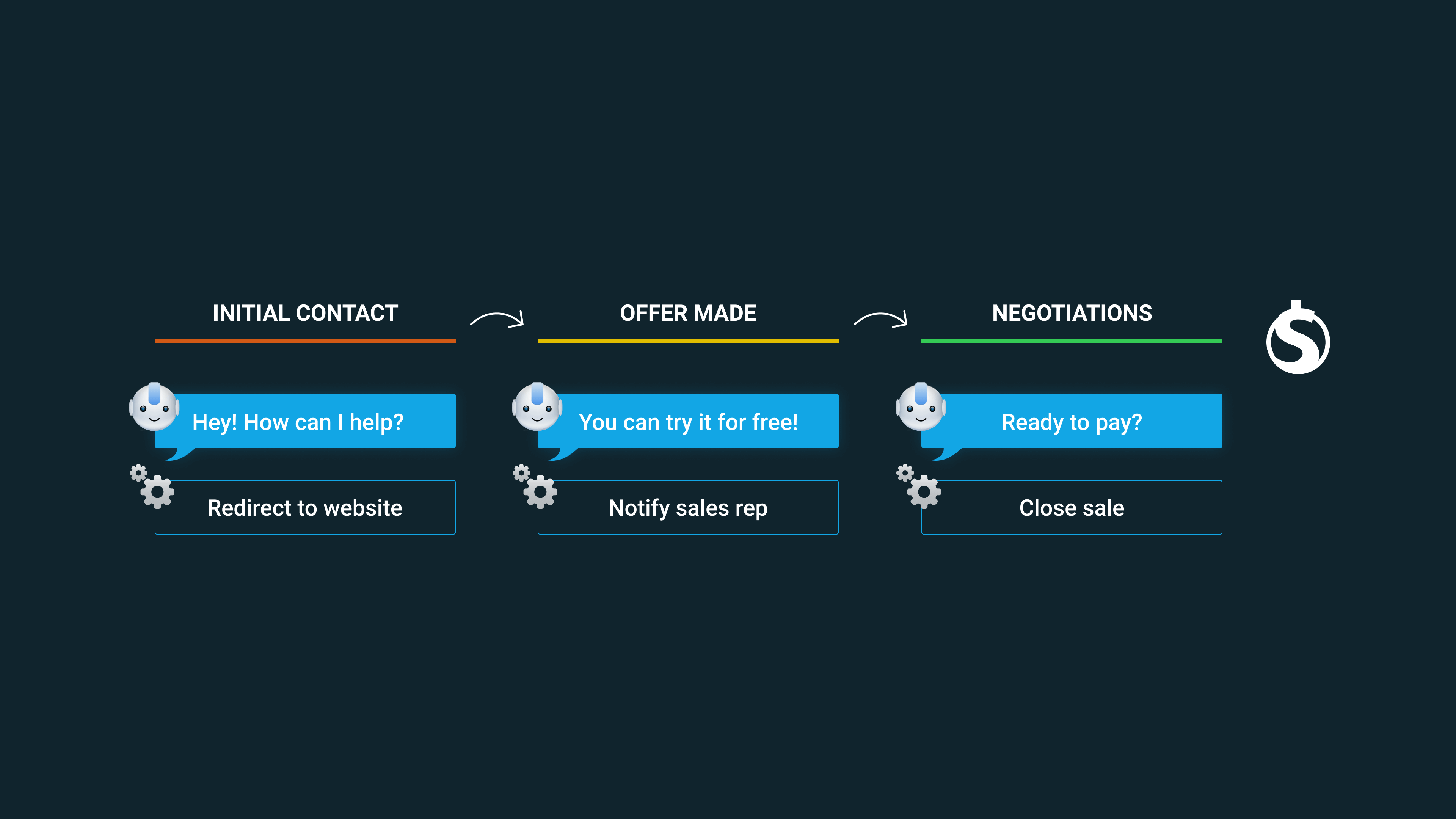 Automated sales workflow with salebot
Armed with the right tools and integration, salesbots can do more. Your salesbot can be linked to a payment software and assist in preparing and sending invoices, it can move leads from different stages of your pipeline based on the condition you set and it can close deals when the customer is ready. Even after winning a sale, you can set up your salesbot to reach out to customers and make sure they are satisfied with their product. The salesbot can also invite them to write a quick review. The bottom line is that you can build a salesbot to work under specific conditions in an automated sequence.
Scalability
It might be great but is it scalable and will it save you money? As an entrepreneur or sales manager, that's a crucial question. The answer in one clean sweep is YES. If you build a salesbot for your Facebook page, it handles all of the interaction on the page 24/7. You'd need to hire at least two salespeople to handle the same task.
Remember, personalized engagement is the key to Messenger-Based Sales and it can be easily done by designing your salesbots to do just that on a larger scale. In the beehive of your sales activities, you can design multiple salesbots for different stages of your sale pipeline. In other words, you can assign an army of salesbots to different tasks and allow your salespeople to focus on more pressing matters and improving their productivity.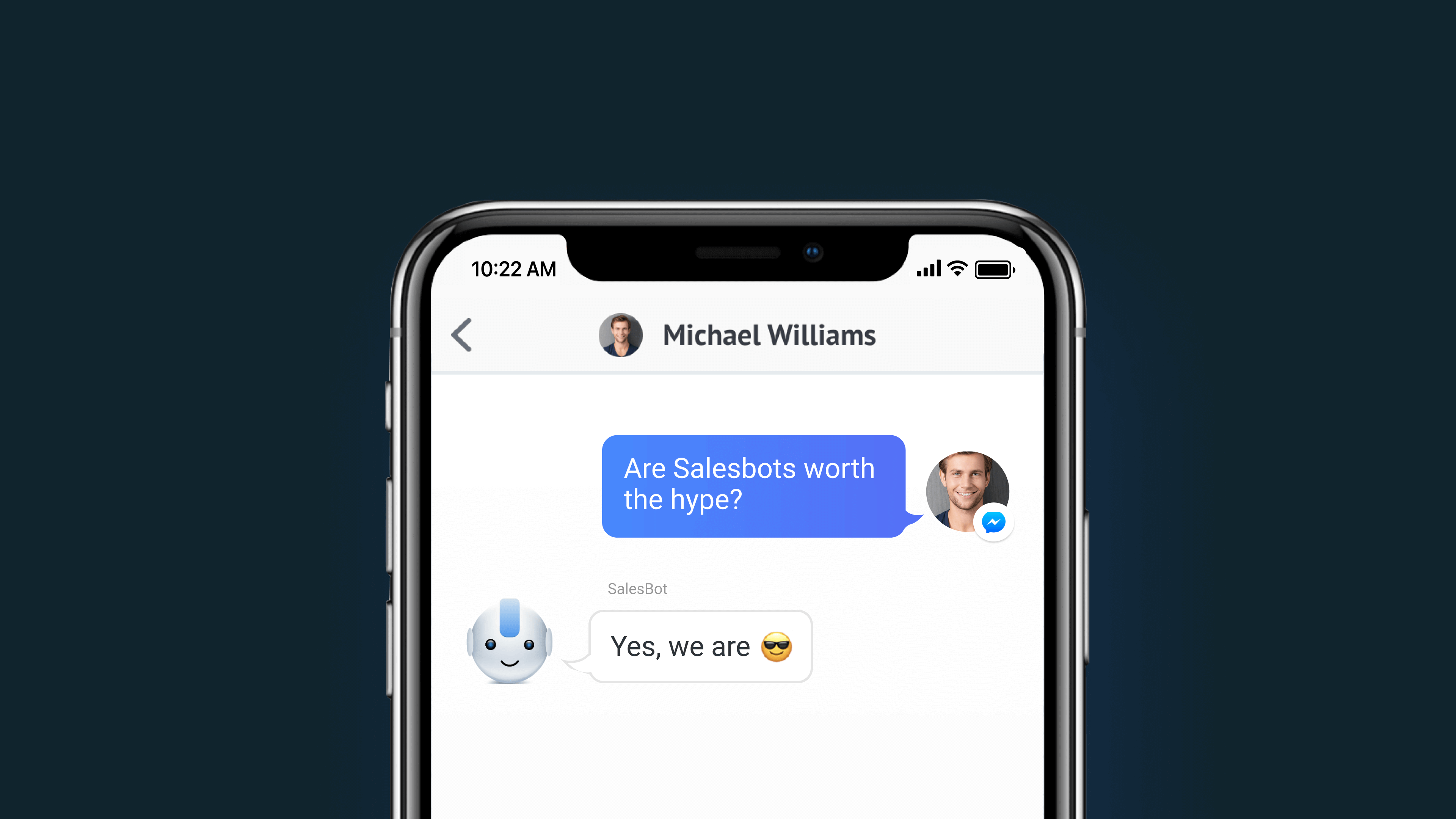 Are Salesbots Worth The Hype?
Are Salesbots worth the hype?
Simply put, yes, salesbots are worth the hype. In a world where customers expect a personalized experience and real-time responses, Messenger-Based Sales is already playing an important role. Salesbots can help you improve customer engagement, increase lead generation and streamline your sales cycle while allowing your sale reps time to handle more detailed and complex activities in your sales process.