Messengers have transformed communication and made us closer to our friends no matter the physical distance. Now they are doing the same for businesses. 💪
If you are looking for ways to make your business more visible & accessible, communicate directly and create an unbreakable bond with your customers you've come to the right place.
In this article, we will go through everything you need to know regarding WhatsApp Business App and WhatsApp Business API – compare their features, limitations and costs and take a look at the benefits they provide for businesses big and small. 👨‍👦
Chapter 1: WhatsApp vs. WhatsApp Business (App and API)
Let's start with the basics. 🤓 WhatsApp actually has 3 different products:
WhatsApp
WhatsApp Business App
WhatsApp Business API
You've most probably heard of the first product which is WhatsApp, the world's most popular messenger with more than 2 billion users worldwide. People love it for its simple interface and free features that vary from text and media share to voice and video calls.
💬WhatsApp is the standard version of the messenger we all know and love. It is free to use and you can chat, make voice and video calls and share all kinds of media and document formats. It also features group messages and broadcasts to up to 256 people.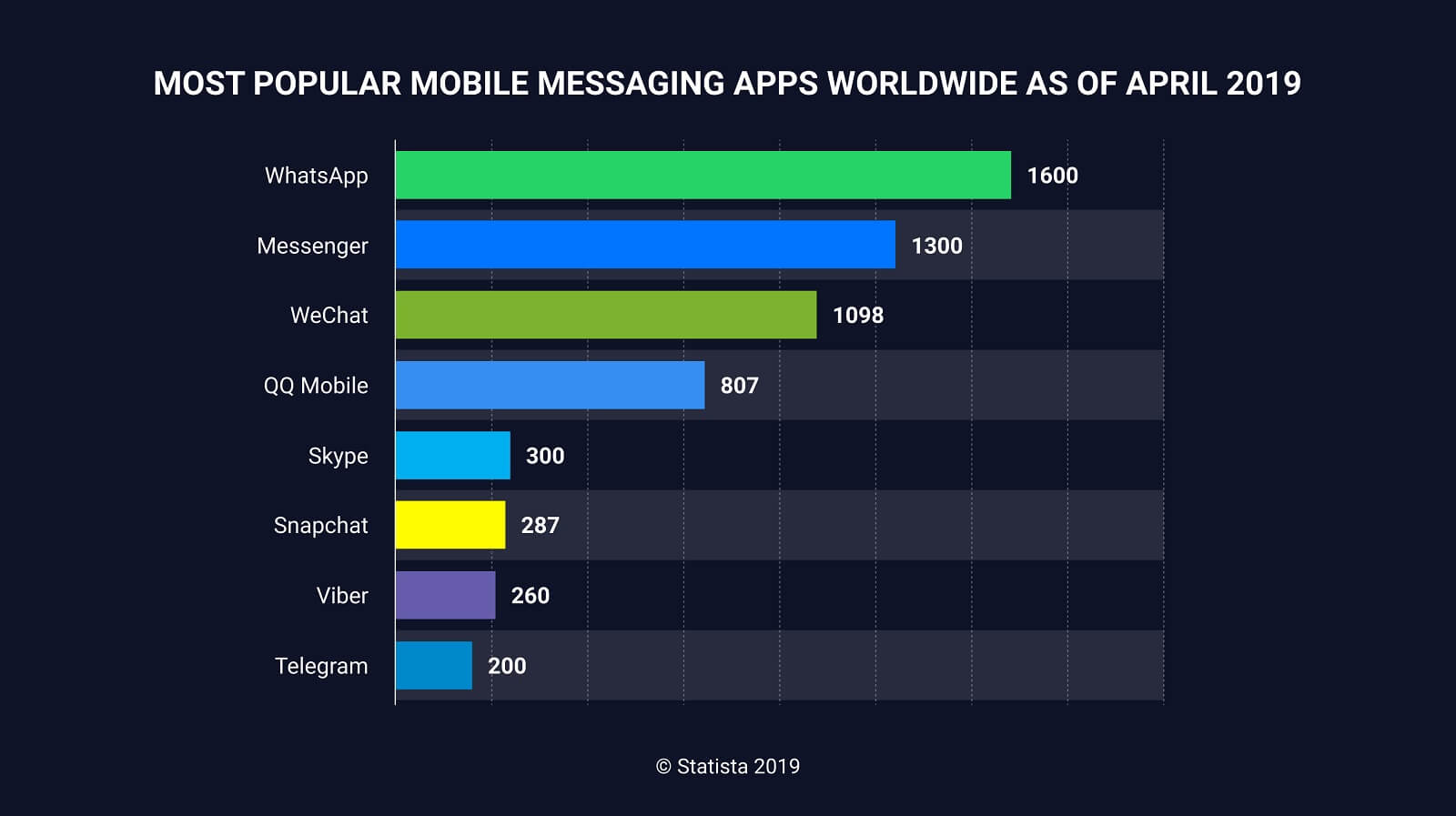 WhatsApp is the world's most popular messenger app
Canny businesses across the world noticed the potential benefits of direct customer communication through WhatsApp and owners started using their personal accounts as a business tool to reach out to customers.
This prompted Facebook (which bought WhatsApp in 2014 for $19 billion) to create 2 WhatsApp products specifically designed for businesses. They were launched in 2018 and are already used by more than 3 million businesses.
A simple story will help us get a general idea of the different audiences the 3 WhatsApp products are designed for. 👇
In New York there are 3 hair salons which all use WhatsApp to communicate with customers. Curl Me Crazy and Chop Shop are small local businesses while A Little Off The Top is a well established chain of hair salons. ✂
The owner of Curl Me Crazy uses her personal WhatsApp account to communicate with customers, it helps her engage with clients but it has some drawbacks. Her personal and business communication is all mixed up and there are no business features in the app to help her out, so sometimes clients have to wait for a long time before they get an answer.
The owner of Chop Shop uses WhatsApp Business App and he gets additional benefits. Communication is only with potential and current customers and he uses WhatsApp's business automations and features to respond faster, structure the chat and better present his services.
A Little Off The Top is a chain of salons with 15 locations across the city. They have many employees and customers so a single smartphone with WhatsApp in it simply won't do. They need to be able to respond using the same WhatsApp business number from multiple locations and users so that's why they use WhatsApp Business API.
📚Recommended reading: Difference between WhatsApp and WhatsApp Business
Types of WhatsApp Business accounts
There are 2 different types of WhatsApp Business accounts a company can have:
WhatsApp Business App
WhatsApp Business API
To put it simply, WhatsApp Business App is free and designed for small and local businesses.
API is paid and it is suitable for big companies which communicate with many customers during the day.
Let's take an in-depth look at both Business account versions.
⌛ If you already know the difference, check out the WhatsApp Business pricing comparison
WhatsApp Business App – a solution for microbusinesses
If you have a small business and want to be present and communicate with customers through WhatsApp, this is the perfect option for you.
💬 WhatsApp Business App is a tool which helps micro businesses reach out and respond to customers in WhatsApp. It is completely free and anyone can download it from the Google Play or Apple Store.
As it is intended for micro businesses, you can connect the number to just one smartphone, so you won't really be able to share this with the whole team, unless the phone travels from hand to hand all the time.
You are able to send out messages and marketing content first and there are no limits on the number of messages. Just remember not to get too spammy and end up blocked by your own customers.
⌛If you are a big team with many customers, check out the WhatsApp Business API section
WHATSAPP BUSINESS APP FEATURES
The WhatsApp Business App has 6 cool little features which will help you automate your messaging and promote your products and services:

Feature #1: WhatsApp Business Profile page
WhatsApp Business App has an updated profile page letting you display more info and present your business. The profile features:
Cover photo
Area of work
Description
Location
Working hours
Link to your website
Product catalog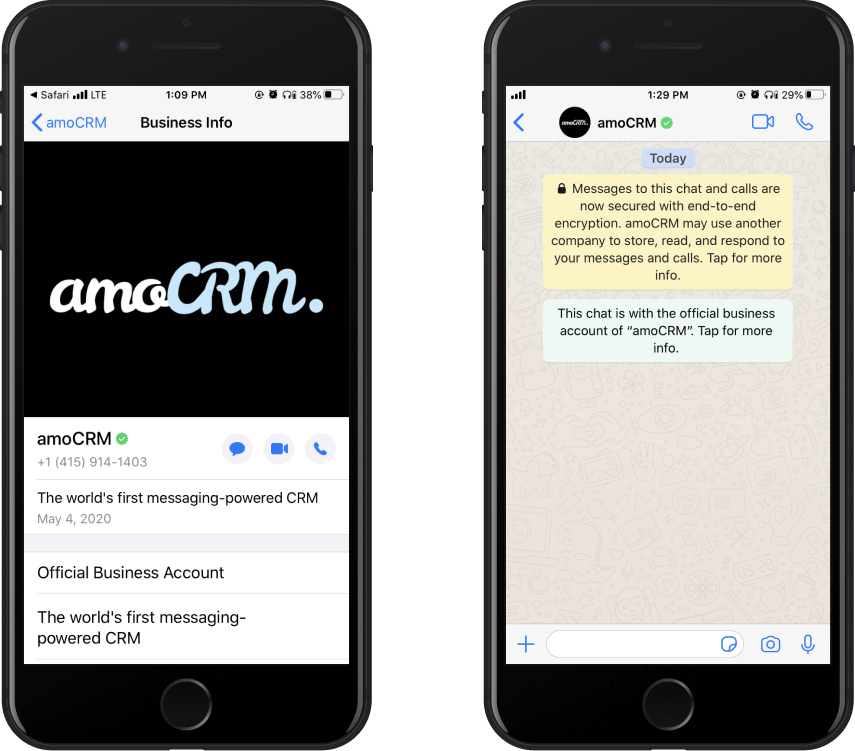 Kommo's WhatsApp Business profile page
The profile is your company's WhatsApp face to the world so make sure you leave a good first impression. Your Product catalog will definitely help out 👇

Feature #2: WhatsApp Business Product catalog
WhatsApp Business's product catalog is a feature which lets you showcase your company's services and products on the profile page and share products while chatting with customers.
You can add product pictures, name and short description as well as a price, link and a product or service code. Once you fill out the catalog it will be added to your business profile and you can send products in chat by clicking on the attachment button (Android) or + button (iPhone).
https://youtube.com/watch?v=goTSdIcwyqs%3Fenablejsapi%3D1%26origin%3Dhttps%253A%252F%252Fwww.kommo.com
How to use WhatsApp Business catalog
Once you fill out the Product catalog and your profile is nice and shiny, you can move on and set up the messaging tools and automations. 👇

Feature #3: WhatsApp Business Messaging tools
WhatsApp Business App has 3 messaging automations which will save you time and greet your customers when they contact you.
WhatsApp Away message automatically responds to customers if they write to you in a period you have marked as unavailable.
WhatsApp Greeting message as the name states, greets your customers when they initiate the conversation and write to you.
WhatsApp Quick replies lets you create templates which you can use while chatting. These are common answers or phrases which you will be able to access and send out by entering the / symbol in the chat.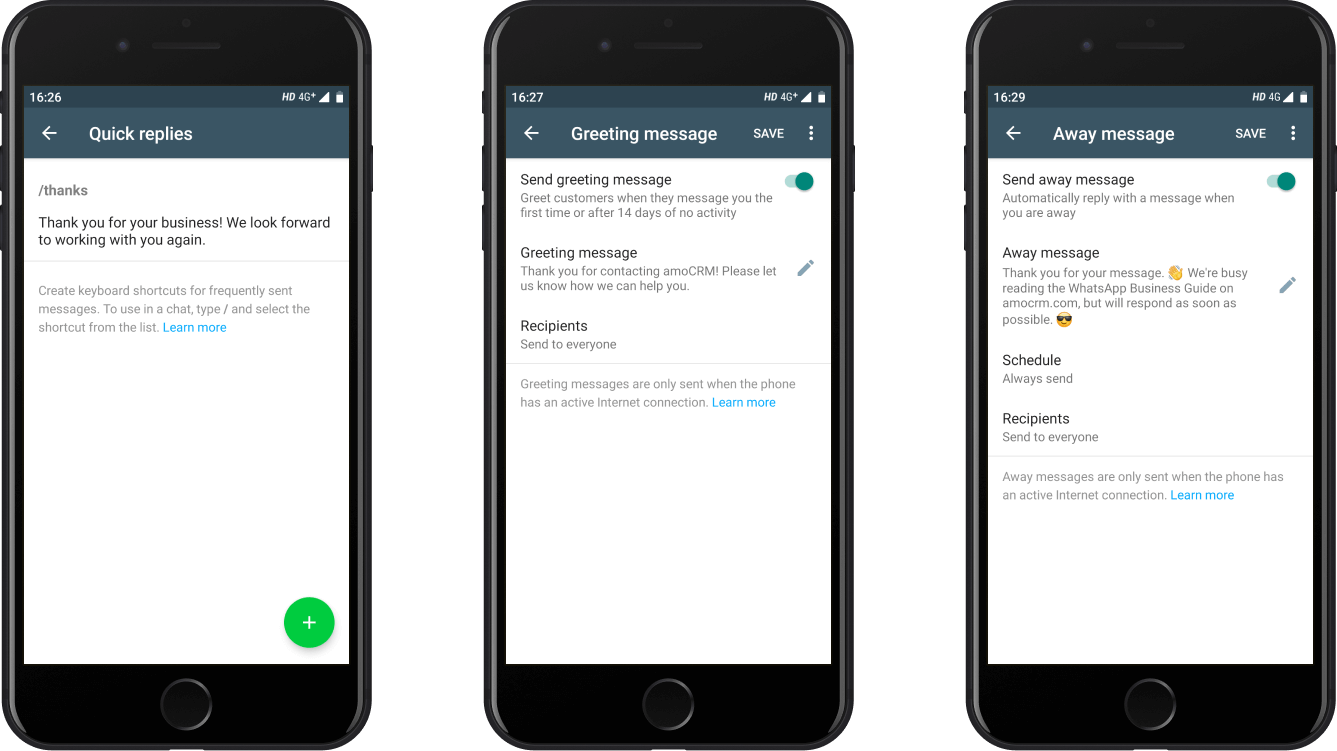 WhatsApp Business App: Quick replies, Greeting message and Away message
Write nice and relevant templates, quick replies and away messages and you've done most of the important work. Now that the chats start flowing in, you will need to structure communication. 👇

Feature #4: WhatsApp Business Labels
Labels are a great tool to organize your chats inside WhatsApp Business. You will be able to mark customers according to labels you create or use one of the 5 standard labels WhatsApp has created for you:
New customer
New order
Pending payment
Paid
Order complete
Labeling will visually mark chats giving you quick information on the communication stage each customer is at.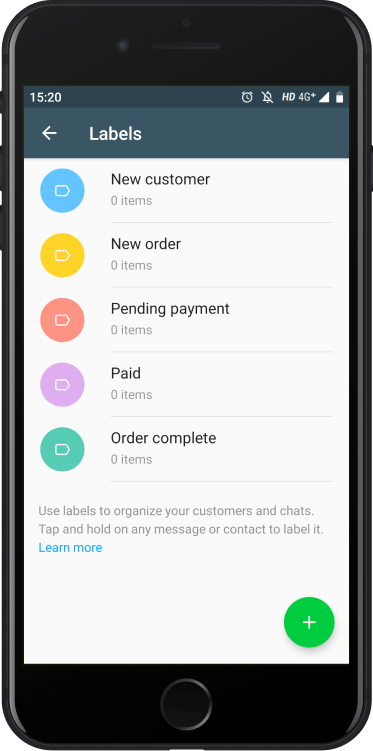 WhatsApp Business labels
Once all of the features have been properly set up communication will flow like a charm. You will be able to get insights into it using statistics. 👇

Feature #5: WhatsApp Business App Statistics
Statistics are a simple and useful tool which will help you understand customer engagement and the effectiveness of your WhatsApp Business account as a communication tool. It gives you the following chats overview and number of:
Messages sent
Messages delivered
Messages read
Messages received
It is a handy little tool which will help you get a sense of how popular WhatsApp Business is as a communication channel for your company.
You can have the perfect profile and message automations, but it won't matter if people don't know it exists. 🤷‍♂️ The next feature will help you solve that problem. 👇

Feature #6: WhatsApp Short link
The short link lets you share a URL which leads directly to your WhatsApp Business chat and customers can start a conversation with you. You can also set up a default message. It's basically a fast way of telling people: Hey you can reach out to me anytime, right here. 👋
HOW TO SET UP WHATSAPP BUSINESS APP?
Setup is really basic, a piece of cake. 🧁 You've probably done these kinds of things hundreds of times before. It takes just 4 steps:
Step 1: Download the WhatsApp Business App from the Google Play or Apple App store
Step 2: Verify your business phone number
Step 3: Set your business name
Step 4: Fill in your profile in the Settings
Keep in mind though, to use the app effectively you should save the contacts you want to write a message to. Especially if you are doing broadcasts, if the customer has saved your number this will make sure the message is delivered.
📚Recommended reading: How to create a WhatsApp Business account?
WhatsApp Business API – a solution for medium and large businesses
Now we've come to the second type of WhatsApp Business accounts, the API. It is the big league where medium to large companies play. 🧐
You'll learn:
WhatsApp Business API features
WhatsApp Business API limitations
Messaging methods in WhatsApp Business API
Who can get a WhatsApp Business API account?
How to apply for a WhatsApp Business API account?
💬 WhatsApp Business API is a tool for medium and big companies to effectively reach out to their customers all across the world using WhatsApp. It is fast, secure and highly customizable.
WHATSAPP BUSINESS API FEATURES
WhatsApp Business API is equipped with features for companies with big teams and many customers:
Multiple users
Sharing location & documents
Creating contact lists
Using WhatsApp Web
Creating a business profile
Sending customer care messages at scale
Creating templates to easily send notifications
Measuring business outcomes with insights
WHATSAPP BUSINESS API LIMITATIONS
The API is very different from the WhatsApp Business App so you won't be able to simply download it on your phone and it doesn't have a standard interface. Instead it can be connected to an existing messaging software or a CRM. The full spectrum of features will depend on where you connect the WhatsApp API account.
Have to apply for an API account and get approved
You must pay to send template messages
Marketing message templates are not allowed
API is a paid version of WhatsApp Business
Customers must give consent to receive your messages
They sound scarier than they are though, don't worry. 🧛‍♂️
MESSAGING METHODS IN WHATSAPP BUSINESS API
WhatsApp Business App and WhatsApp Business API differ greatly in the way messages are sent out. Unlike the App version where you can freely send messages, API messaging is regulated and there are costs associated with it.
There are 2 communication methods in the API version of WhatsApp Business.
Session messaging
Template messaging
Session messaging is a type of message which can be sent out after a customer contacts you in the chat. Once you receive a message from a customer you have a 24 hour window to respond to it without any content limitations. These messages are free as well, no charges connected to it whatsoever.
Every time the customer sends you a message the 24 hour window is reactivated, so unleash your business charm and communicate freely. ✅
Template messaging applies to messages outside of the 24 hour window or in cases when you want to contact a customer first. You will be able to create templates and use them to send messages to customers.
🔞 Created templates must be pre-approved by WhatsApp and they cannot contain any promotional and marketing text.
WhatsApp takes great care to protect its users from spam marketing messages and you would agree, nobody likes to get spammed right?
An airline informing its customers of a canceled flight is a good (and unfortunate) example of an allowed template. Check out the official WhatsApp Message Template Guidelines.
Template messages are a paid feature and we will go through the costs in the pricing comparison further down.
WHO CAN GET A WHATSAPP BUSINESS API ACCOUNT?
WhatsApp Business API is designed for established businesses so if you are an individual entrepreneur or a micro business do not despair, the WhatsApp Business App has got you covered.
The industry also plays a part on whether you get approved for an account once you apply. Political organizations, gambling, alcohol, tobacco and adult content companies have little chance of being approved. 🤔
WhatsApp regularly approves companies in industries such as retail, real estate, financial, eCommerce, education and hospitality. 🥰
HOW TO APPLY FOR A WHATSAPP BUSINESS API ACCOUNT?
There are 2 ways you can apply for a WhatsApp Business API account:
Directly through WhatsApp
Through a WhatsApp partner (Solution provider)
1. Apply for API directly through WhatsApp
Applying directly can be done on the Facebook developers page. We don't really recommend this approach though, to get approved with a direct application you would have to be a really well known and big business (+ be pals with the guys at Facebook). So in general, chances are slim here. 🙄
But if you are brave enough and want to give it a try, here's what you got to do:
Apply for a WhatsApp Business API account on Facebook's page.
The application will be considered and you will be informed if your direct submission is approved.
2. Apply for API through WhatsApp Business Solution Provider
Most businesses apply through WhatsApp Partners, these are companies which provide solutions where WhatsApp can be used and in general the whole process is faster and approval rate is far higher when you apply through a WhatsApp partner. 😊
Apply for a WhatsApp Business account and connect it to a CRM with WhatsApp via Twilio. 👈
The approval process takes around 2 weeks and you need to have a Facebook Business Manager account, so make sure to create one.
WhatsApp Business Pricing comparison
As you already know, there are 2 options to choose from:
WhatsApp Business App
WhatsApp Business API
WhatsApp Business App is completely free so you won't spend a dime. Well.. technically you do pay for the SIM card and the smartphone you use, but we won't really count that as a direct WhatsApp cost.
WhatsApp Business API is a paid service and typically you would be paying a double fee, one for WhatsApp and another for the partner you have gotten the account through.
Prices can vary depending on the partner and they can have different models such as:
Pricing based per message
Messaging bundles
Monthly active users
Costs also vary by country.
🔞Twilio charges $0.005 for a Session message and $0.005 + a destination cost depending on the country for Template messages.
Which WhatsApp Business account do you need?
If you are an individual entrepreneur or a micro business with local customers and want to engage with them on WhatsApp then WhatsApp Business App is the way to go. Don't waste another minute and download it right now as we speak. 😎 Have in mind that the app is limited to one SIM card and smartphone.
If you are a medium to large size business with many customers then WhatsApp Business API is the right fit for you. Your support and sales team will be able to efficiently communicate with customers on multiple devices using a software such as Kommo. 💪
Chapter 2: How to acquire leads on WhatsApp Business
⌛ You've already got leads and your marketing is on point? Learn How to make sales on WhatsApp Business App?
It is nice to have WhatsApp Business but how do you get value out of it and actually get new leads and customers in WhatsApp? Here are some of the best methods we came up with:
WhatsApp Business Short link
WhatsApp Business Short link is a feature available in the WhatsApp Business App. It gives you a URL link which redirects current and potential customers to your WhatsApp Business chat.
Share this link through channels such as social media and get new leads in WhatsApp.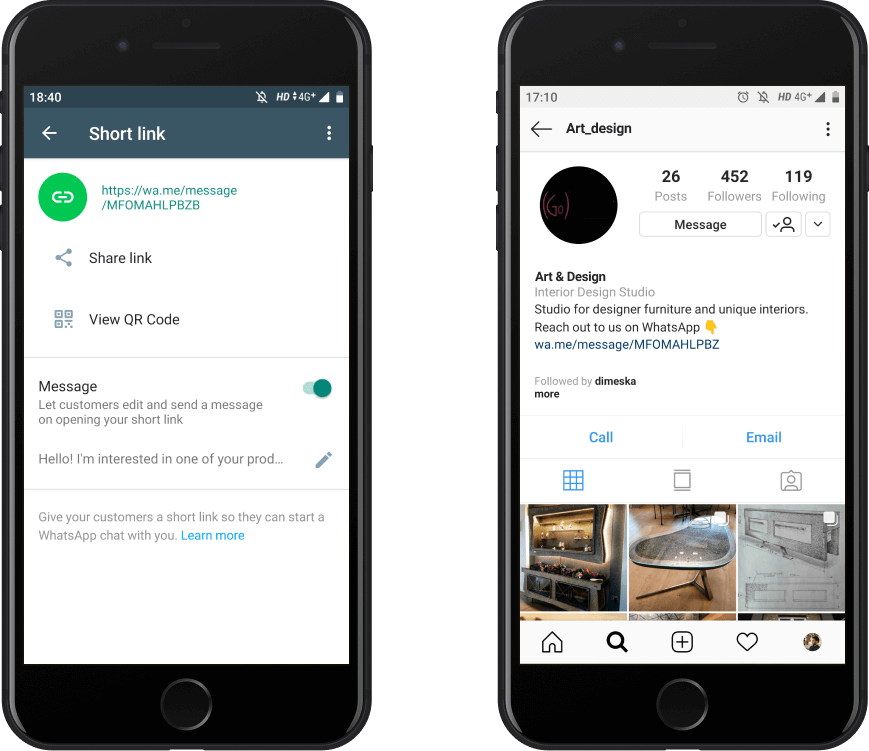 WhatsApp Business App: Short link added in Instagram
Click to WhatsApp ads on Facebook.
In Facebook ads there is a feature to add a WhatsApp 'Send a message' button in the ad which will take customers to the chat where they will be able to write to you directly. If the customer messages you first, it's always a great start!
Embed WhatsApp on your website
Kommo can help out with its Engagement button feature which puts the messengers you use on your website and connects them with the sales pipeline so all of the chats will end up there. Sounds kinda sci-fi but it is real. 👨‍🚀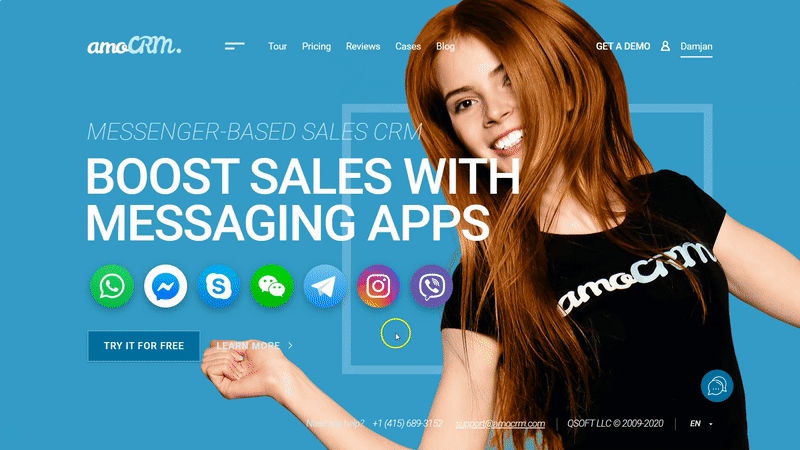 WhatsApp website chat button in Kommo
Promotion over WhatsApp Groups
Use the shareable link feature and spread the word across WhatsApp groups of interest, let them know you are in town. 🤠
Embed WhatsApp in your email signature
Add your WhatsApp Business number in the signature as a text or clickable picture with URL link to the chat.
WhatsApp embedded in email signature
Chapter 3: How to make sales on WhatsApp Business
So by now we covered all of the basics, you understand the differences between WhatsApp Business App and WhatsApp Business API and learned how to do WhatsApp marketing. You've earned yourself an A+ in theoretical knowledge 👨‍🎓.
Now it is time to move from theory to practice and take a look at some examples on how you can actually increase your sales using WhatsApp Business.
We will analyze different methods according to the type of WhatsApp Business account you will use and mention some real life examples of companies achieving great results with WhatsApp Business.
How to make sales on WhatsApp Business App?
WhatsApp Business App comes equipped with tools to help out micro businesses. It's up to you to use them to their full potential.
Step #1 Create WhatsApp Business Labels
Step #2 Create a WhatsApp Business Broadcast
Step #3 Create a Greeting message
STEP #1 CREATE WHATSAPP BUSINESS LABELS
Labels in WhatsApp Business App let you structure your chat and mark contacts. It is basically a tiny, very simple version of a CRM. 👶 But it can be really helpful for micro businesses where one person takes the whole customer communication weight on their shoulders.
A Brazilian coffee farmer which produces the finest organic coffee might have the following labels: ☕
New contact
Samples sent
Order made
Payment done
A single chat can be marked with multiple labels so you can add tags such as:
Individual customer
Restaurant or cafe
Reseller
Basically structure your whole sales process in WhatsApp. Each label is colored so when you look at the chat you will be able to easily recognize the status of each customer.
To add a label simply highlight a chat and press on the label button in the top of the interface.
Take a look at this neat video example of how a company in India uses WhatsApp Business and labels their chats 👇https://www.youtube.com/embed/lgo68HMosyI?enablejsapi=1&origin=https%3A%2F%2Fwww.kommo.com
STEP #2 CREATE A WHATSAPP BUSINESS BROADCAST
Broadcasts are the same as in the regular WhatsApp version and they can have a maximum of 256 contacts added.
They are used to send out the same message in bulk to all of the contacts. They receive the message as an individual chat, so broadcasts are not the same as groups. If you get a response, it will show up as a regular chat with the customer.
It's great for product announcements, promotions and reaching out to your customers in general.
Labels come in handy here as you can send out a broadcast message to a whole label at once.
Have in mind though in order to receive a broadcast message, your customer should add your number as a contact in WhatsApp.
STEP #3 CREATE A GREETING MESSAGE
Greeting messages are sent out automatically whenever a customer writes to you for the first time.
To enable it and write your message go to Settings > Business settings > Greeting message.
If you are a spa & wellness center you can greet your customers with:
'Glad to see you 👋 We'll help you relax and recharge your body as there is nothing a good massage can't fix 💆‍♀️'.
First impressions matter so make sure you write something nice. 😊
STEP #4 CREATE QUICK REPLIES
As you communicate with customers you will notice that some questions and info are repeated frequently. 🤔 To respond faster and save precious time, you can use the Quick replies feature.
It allows you to create templates which you can then use in the WhatsApp chat by typing the / symbol in the chat, this will open up a selection of quick replies you have created.
Go to Settings > Business settings > Quick replies to create new templates.
STEP #5 CREATE AWAY REPLIES
Away replies let your customers know you are currently unavailable. You can set it up to automatically send out a message during specific hours of the day or for longer periods such as holidays.
That way customers won't wonder where you have disappeared. 😌
Use the default message provided by WhatsApp or add a personal touch by writing your own.
Go to Settings > Business settings > Away message to edit the message and the time when it is active.
How to make sales on WhatsApp Business API?
We are moving to the API version of WhatsApp business, a somewhat more technical but very exciting opportunity for small & medium sized (SMEs) and big companies. It will take your customer communication to the next level.
We recommend to follow these steps:
Step #2 Connect WhatsApp Business Solution Provider to a CRM
Step #3 Create a WhatsApp Sales pipeline
Step #4 Create WhatsApp Sales templates
Step #5 Build a WhatsApp Chatbot
Step #6 Give your team an access to WhatsApp
STEP #1 CHOOSE WHATSAPP CRM
WhatsApp API is designed to fit into a software where WhatsApp can be added. CRMs are the first choice in this case, they help you manage the complete sales and marketing process from the first moment a lead contacts you till the moment they become one of your loyal customers.
Messages will be delivered in the CRM and a lead card is automatically created. You and your team will be able to respond to messages directly and use many sales and marketing automations and features. 💪
Only a handful of CRMs have a WhatsApp integration, including:
Salesforce
Kommo
Hubspot
Zoho
Add your WhatsApp Business account in a CRM 👈
STEP #2 CONNECT WHATSAPP BUSINESS SOLUTION PROVIDER TO A CRM
Creating and connecting a WhatsApp Business account to a CRM usually takes the following steps:
Create an account in the WhatsApp Business Solution Provider you selected
Fill out the request for a WhatsApp number
Once approved, copy data such as Auth Tokens found in the provider dashboard and paste it in the CRM WhatsApp integration installer
Enjoy all the automations and increased team efficiency of using a CRM with WhatsApp
Here's an example on how to apply for API through one of the WhatsApp Partners – Twilio to Kommo 👇https://www.youtube.com/embed/dIilg5b43OQ?enablejsapi=1&origin=https%3A%2F%2Fwww.kommo.com
STEP #3 CREATE A WHATSAPP SALES PIPELINE
You've connected WhatsApp to the CRM but just receiving chats and responding to messages is not enough. 🤔
Many companies lose potential customers as they don't have a clear concept of the lead communication flow and the exact steps needed to make sure they become a customer. Creating a sales pipeline solves this issue and helps you get more sales.
A sales pipeline is a structured process of moving a lead through the sales process with the goal of turning them into one of your customers.
Get all of your WhatsApp Business chats in one place – Unified Inbox with WhatsApp 👈
The pipeline is divided in different stages and potential customers move across stages depending on the status of communication with them. For example:
New lead
Scheduled meeting
Proposal sent
Invoice sent
Payment made
Every business is unique and so is their sales process, that's why the number of pipeline stages can vary greatly and should be set up according to your products and services.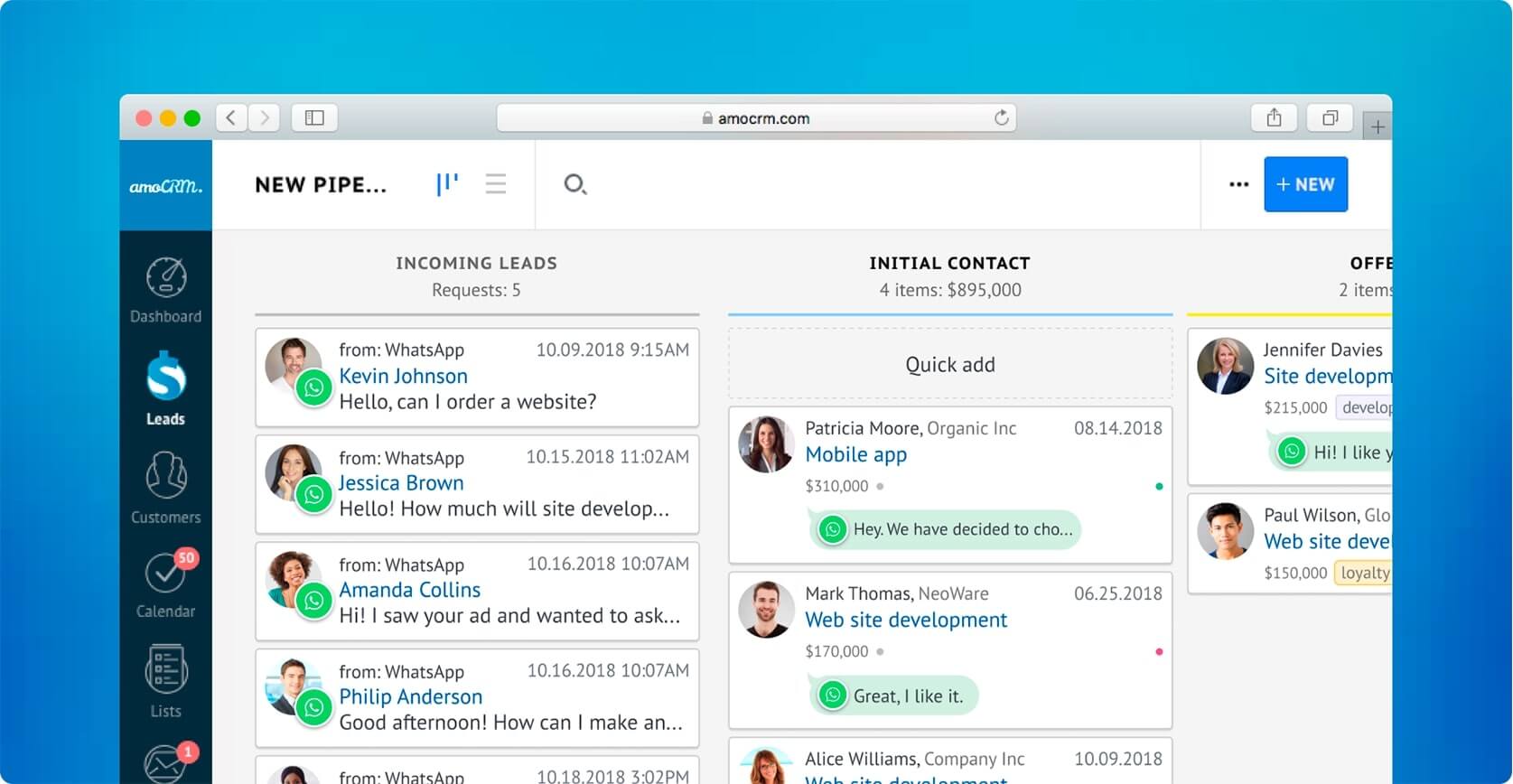 WhatsApp Business sales pipeline in Kommo
STEP #4 CREATE WHATSAPP SALES TEMPLATES
As the old saying goes 'time is money', so you wouldn't want to spend time constantly typing the same answers and info before sending them to potential customers. It is such a waste of time on routine tasks. 🙄
Why not create templates instead? 🙋‍♂️
WhatsApp Business templates can be created in Kommo as well. These can be used during the Session messages type, when you can answer for free without content limitations. For templates outside the 24 hour window or fist messages, WhatsApp has to review them and give you the green light. 💡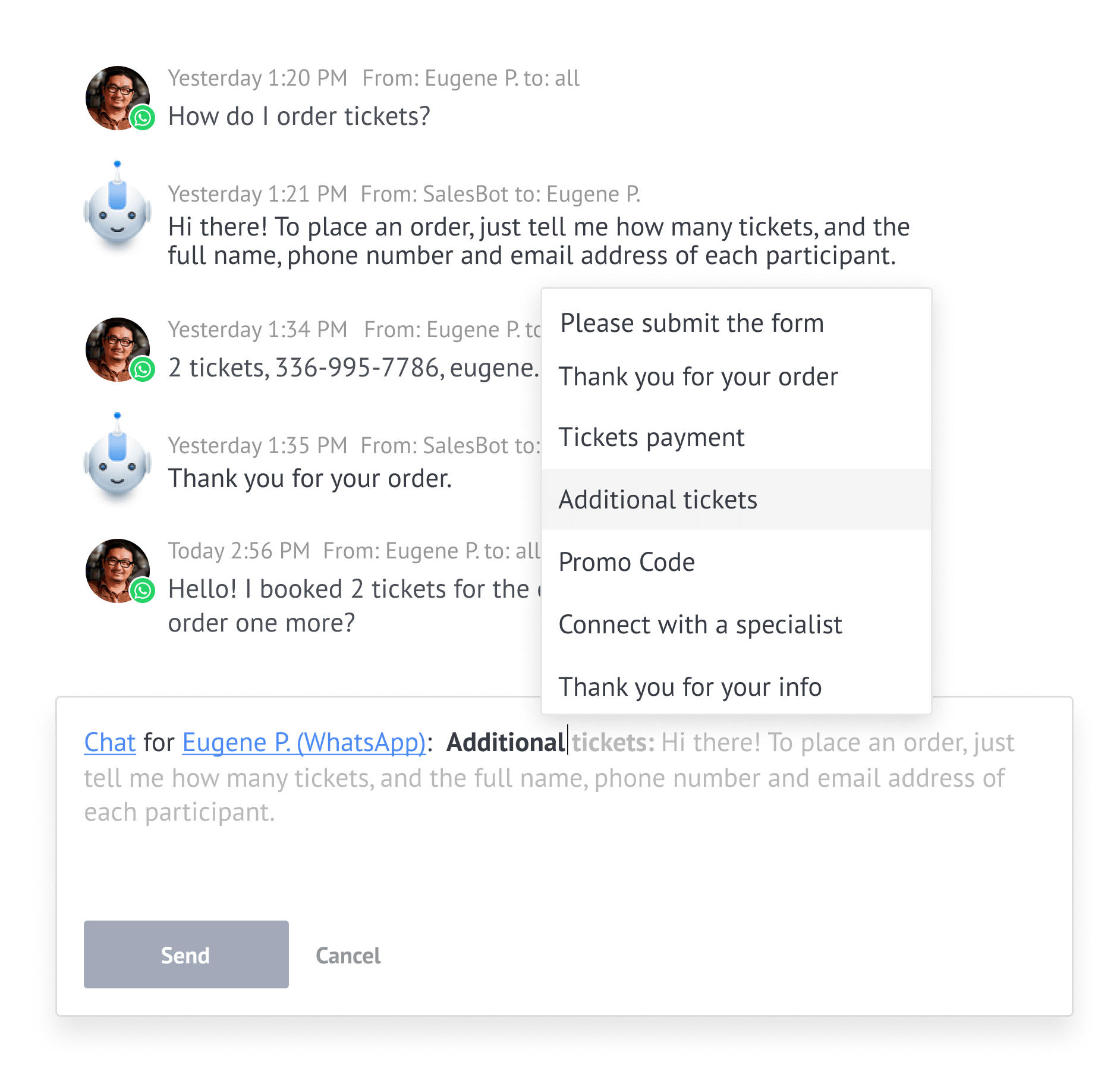 WhatsApp Business sales pipeline in Kommo
STEP #5 BUILD A WHATSAPP CHATBOT
Salesbot is your loyal companion which will automate customer communication and respond to messages in the WhatsApp Business chat. 🤖
Automate your WhatsApp communication – Chatbot for WhatsApp 👈
He can be summoned in the Kommo Salesbot builder and his powers almost match those of Arnold Schwarzenegger in Terminator 2. He can respond to messages and send info, media, URL buttons, make lead card changes, create invoices, gather all kinds of info and alert your team when a human touch is required.
STEP #6 GIVE YOUR TEAM AN ACCESS TO WHATSAPP
One of the main benefits of WhatsApp Business API is having multiple team members use the account at the same time. So once you have added WhatsApp Business to the CRM, it's time to bring in the crew 😎
Add your team and they will be able to respond to WhatsApp messages directly in the CRM. Not only chat with the customer, they can use internal chat, set tasks, add notes and details and move the new customer through the sales process.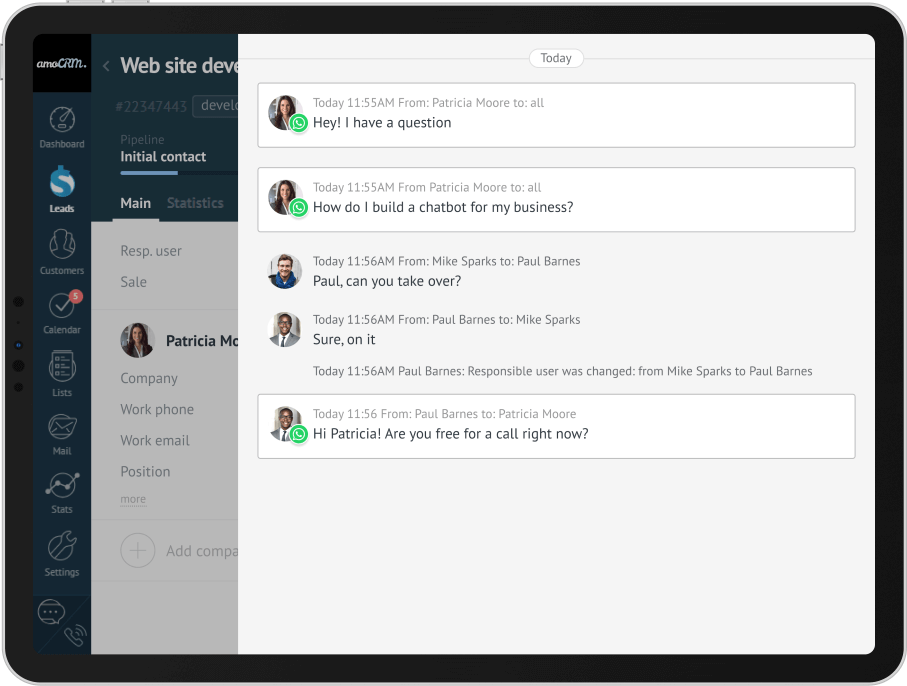 WhatsApp and internal team chat in Kommo
Your whole team working together in a messenger CRM – WhatsApp for teams 👈
Chapter 4: How to support your customers on WhatsApp Business
In this part we will take a look at different tips & tricks on how to create a top class customer experience using WhatsApp Business. ⭐ We will differentiate between WhatsApp Business App and API and will take a look at some cool ways companies have used WhatsApp for customer care.
Support on WhatsApp Business App
For micro businesses with up to 9-10 employees, WhatsApp Business App is a great opportunity to increase the quality of customer support. It does so through the following points:
Real time customer service
Multiple communication channels
Feedback
Real time customer care
WhatsApp Business gives micro businesses a tool where they can provide real time customer care and be online throughout the day, which was previously considered a luxury for micro businesses.
Multiple communication channels
WhatsApp Business App gives you a variety of customer communication channels:
Text messages
Video & media
Calls
Feedback & updates
Receiving feedback on WhatsApp Business is great as well, ask your customers to let you know if they are happy with your services or send them a quick questionnaire. Don't forget to reward them for their willingness to help you out with their feedback. 😊
Support on WhatsApp Business API
The aim of customer care in WhatsApp Business API is to automate the process and bring it to your customers favorite messenger.
Companies using WhatsApp Business API have a larger customer base and a big amount of daily messages which require an answer. This is why Chatbots combined with a real agent when required are a popular tool frequently used for customer care in WhatsApp.
We spoke about Chatbot and his superpowers in Chapter 3. 🐱‍🏍 When it comes to customer care, he will gladly help you out by providing:
General information
Reviews and ratings
Reminders
Order updates
STEP #1 PROVIDE PRODUCT AND COMPANY SERVICES RELATED INFO
Some businesses have created complex chatbots which provide information on all company related questions. It's like a whole knowledge database on all of the questions you could ask, from A to Z. 👩‍🏫
The bot gives you a list of numbers or keywords to choose from and select the info you want to get. Just type it in and voila, the bot delivers.
STEP #2 GET A FEEDBACK FROM YOUR CUSTOMERS
Chatbots are typically connected to a CRM so you can easily set up a rating and review system. Customers will leave a rating based on a scale and write a review if they had a positive or negative experience and all of it is registered in the CRM. You will get statistics and notifications in the unlikely event there is a negative review which needs your attention. 🧐
Net Promoter Score is a metric used to measure customer experience. It can measure loyalty, overall experience and the customer's willingness to recommend your company.
When communicating with a client, the NPS function generates a unique conversation number. After the issue is solved and the conversation is closed, the client is sent a customizable message with a request to evaluate the service they received on a ten-point scale.
STEP #3 SET REMINDERS
A subscription is going to expire soon? Chatbot will send them a quick WhatsApp reminder they cannot miss. 😎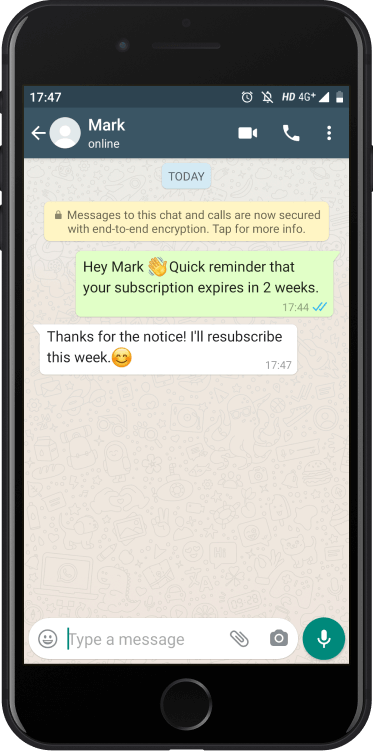 WhatsApp Business Chatbot reminder
Order updates inform your customers on the status of their purchase. Let them know their product is on the way or an unfortunate short delay is to be expected. 😅
Now let's take a look at some creative ways companies across the world have used WhatsApp Business for customer care.
Customer care success stories in WhatsApp
KLM Royal Dutch Airlines are a classy example of how you can use WhatsApp Business to get closer to your customers. ✈
When you book a KLM flight you are able to select WhatsApp as the platform where you will receive all of your flight information. KLM will send you:
Booking confirmation
Check-in reminder
Boarding pass
Flight status updates
You can request to change seats in the chat
And they will never spam you with marketing and promotions in WhatsApp. And the appraoach has been very successful, people seem to be loving it 😋https://www.youtube.com/embed/8ay-D4XDUe0?enablejsapi=1&origin=https%3A%2F%2Fwww.kommo.com
The World Health Organization is on WhatsApp as well. Send a 'Hi' message to their number +41 79 893 1892 and check it out for yourself. You will be able to get useful info such as:
Travel advice
News & updates
Latest figures
FAQs
Mythbusters
It is a great way for the WHO to become more accessible and provide info throughout the world using WhatsApp. 🌍
Many hotels and restaurants have also started using WhatsApp Business. Once you book a room or a table they will send you a confirmation and directions on your WhatsApp, if you need to make any changes just send a message through the chat.