It feels good when you have a verification badge next to your name on social media, makes you stand out from the crowd and people think: Woah, this person/brand must be really important! 😮
The same applies for companies, it makes them look credible and we are a bit more likely to do business with them just because of one little badge. So how to verify a WhatsApp Business account and get an Official WhatsApp Business badge for your company?
In this article we explain the difference between a Business account and an Official Business account in WhatsApp, then take a look at the steps required to get a shiny green badge in your account.
You'll learn: 👇
What is a WhatsApp Business Account
Business account is the standard naming of any account created on the WhatsApp Business App or WhatsApp Business API. So you have this one by default.
Such accounts do not have an official green badge next to their names. 🤷‍♂️ You can be cool even without a badge though. Make sure to fill out all of the profile fields such as name, business category, location, website, contact details and create an amazing product catalog.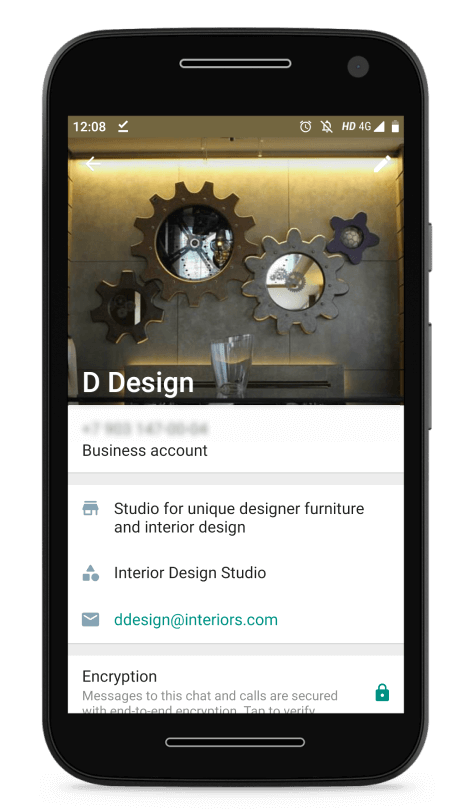 WhatsApp Business account
What is an Official WhatsApp Business Account
What makes an account official is the green badge next to the account name. This verifies that WhatsApp has determined the account belongs to an authentic brand. 🧐
The badge is only available for companies using WhatsApp Business API, it is displayed next to the name in the account profile and in the chat thread. The company name will be displayed even if the customer hasn't saved the phone number in their WhatsApp, so that's a pretty neat bonus as well.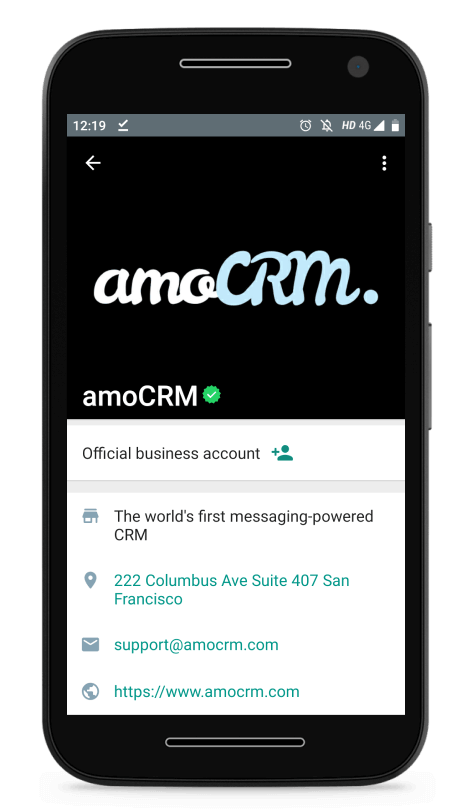 WhatsApp Official Business account
How to verify a WhatsApp Business account
To get verified you need to send a request to WhatsApp. We recommend doing this through a WhatsApp Business solution provider, they will help out, provide consultation and act as an intermediary. Solution providers may charge you for this service.
Creating a WhatsApp Business API account is usually done through solution providers, so you can use the one which helped you create an account in the first place. The official badge is only available for API accounts.
Typically the process is the following: 👇
Step 1: Verify your Facebook Business Account
You can check your account status at business.facebook.com/settings/info. To verify the account:
Go to the Security Center in your Facebook Business Manager and click start verification in the Business verification section.
Enter the business details
Select your business
Confirm your business details
Get a verification code or verify your domain
Enter verification code (not applicable if you use domain verification).
💬 You can check the status of the verification in the Security Center.
Step 2: Contact a WhatsApp Business solution provider
Once your Facebook Business Account is verified, contact the WhatsApp Business solution provider. They will gather all of the required info and transfer it to WhatsApp.
💬 Haven't found a WhatsApp solution provider yet? Choose one in the Facebook Partner Directory.
Step 3: Send info to the solution provider
Send the following info to the WhatsApp Solution provider:
Screenshot showing your verified status
Business website address
Facebook page URL
Business name in languages other than English (if applicable)
Step 4: Application is submitted
Once you have provided all of the info the partner will open a ticket with WhatsApp to verify your account.
⏰ The review process usually takes around 3 weeks.In case of a rejection, you may reapply after 3 months. There is no possibility to appeal in case of a rejection and WhatsApp has full discretion in deciding which companies receive an Official business account and with it a green badge next to the account name.
Requirements to get verified for a WhatsApp business account
At the moment the exact list of criteria to get a green badge is shrouded in mystery. 🧛‍♂️
WhatsApp says that Official business accounts are approved only for notable businesses. These are big companies known worldwide and brands which have a high brand value.
It is also helpful if you have already used your WhatsApp Business API account for a few months and have messaging and quality statistics which WhatsApp can take a look into. This will strengthen your chances of getting your application approved.
Note that verifying an Official business account is available for WhatsApp Business API accounts. Check out how to get WhatsApp Business API account via Twilio 👇https://www.youtube.com/embed/dIilg5b43OQ?enablejsapi=1&origin=https%3A%2F%2Fwww.kommo.com
WhatsApp will review your application submitted through a Solution provider and get back to you with the results.
Hope this article helped you get insights on how to verify a WhatsApp Business account. ✅
Wishing you a successful application and may you proudly display your green badge. 😌