If you are already using WhatsApp as a communication tool with your customers you are a part of the messenger based sales revolution, changing the way companies and customers keep in touch.

In this article we will find out how to create templates in WhatsApp CRM and how they can be used effectively.
Connecting WhatsApp to a CRM and chatting with potential and current customers is a fun and effective tool to create customer loyalty and achieve more sales. What isn't fun though, is having to type the same chat messages again and again.. 🤪
A CRM gives you the ability to connect WhatsApp and create templates which cover the most frequently typed messages, decreasing your response time to customers.
Creating WhatsApp templates in a CRM
Once you have successfully connected your WhatsApp number in the CRM, you'll be able to receive and respond to new messages directly in the CRM. Create WhatsApp chat templates to cut down on mundane tasks such as typing the same chat messages every day.
Creating a new WhatsApp template in Kommo is a breeze. Here's how you can do it: 👇
Go to the Settings > Communication tools page in your account.
Click on Add a new template to create a template.

The template creator lets you attach files and automatically grab lead card fields in the message such as: lead name, company name and any custom field you have created. This will help you create templates which address your customer directly. It will feel like the message was specifically created just for them.
Creating a WhatsApp chat template in Kommo
Don't forget to click on Save.
The template will be saved in the list and it can be edited again if needed.
That's all, simple as that. You may create as many templates as you need.
How to use WhatsApp CRM templates
Once you have created your first templates, you can put them in action and automate customer communication.
WhatsApp messaging in the lead card
The template can be used when you chat with a potential customer in their lead card in Kommo.
Templates are great for messages which are frequent and have the same content no matter the customer. These include:
Greeting messages
FAQs
Promotions
Confirmations
Invitations
Sending out booklets and catalogs
Customer service questions
Let's take a look at a practical example from a veterinary clinic. 🐱🐶
Most of the customer appointments are done through WhatsApp so appointment confirmation messages are sent out through a template. We already created a template, so now we'll put it to use.
To send out the message:
Open up the lead card.
In the chat box write the name of the template (first few letters are sufficient).
Select the template.
Click send.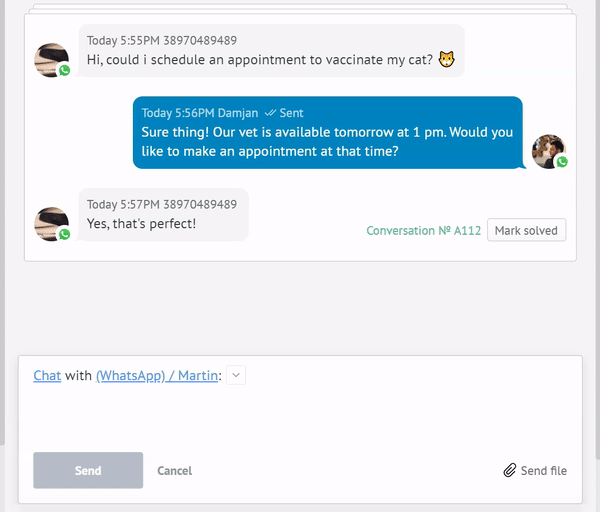 WhatsApp messaging with template in a Kommo lead card
I personally have often used templates for scheduling meetings. I've got one with my Calendly link in it which invites the person to make an appointment following the link. It has saved me lots of typing time.
Using Salesbot to automate messaging

Salesbot can help you completely automate communication with customers. From the first point of contact to a paid invoice. He can even let you know if your human presence is required in a specific conversation.
So it is more than simply using template messages. It's more like automated templates on steroids. 💪
The Salesbot is complex and lets you create detailed communication flows, but we can still use it as an automatic template.

To do so:
Go in the Pipeline settings and select the stage where you want an automatic message to be sent out via WhatsApp.
Add Salesbot with 1 message in the communication flow.Creating a WhatsApp Salesbot message in Kommo
Click on Save.
You've just created a greeting template which is automatically sent out whenever a lead moves to the pipeline stage. This way you can have an up to date communication with your customers as they move through the pipeline or do various actions.
Let's take a look at the Salesbot in action. 🤖 We created the message in the Initial contact stage of our pipeline.

In the meantime one of our potential clients reached out to us with a simple hi 👋. Once we move the lead to the Initial contact stage, Salesbot will do his thing and automatically send out the message.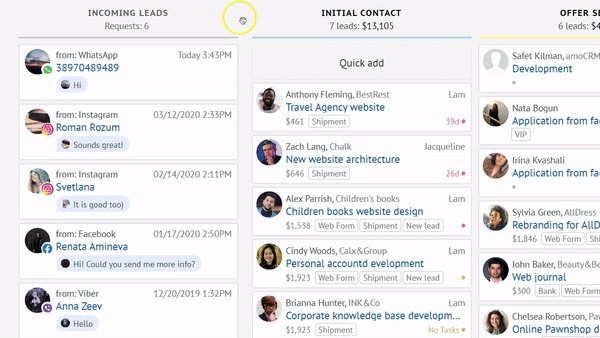 Automatic WhatsApp messaging in Kommo with Salesbot

It is a great follow up tool as well. Salesbot can send multiple messages after specific periods of time, that way he can reach out to your customers after one day, a week or whatever suits your sales and marketing processes the best. 🧐
Wrap up
WhatsApp is an amazing tool for communicating with customers and it becomes even more so once you combine it with CRM automations.
You can create templates for the most frequent types of messages, save your team time and increase the efficiency of messaging with customers. All of it is conveniently done in the lead card where you have a full overview of all communication with the potential customer.

We covered the topic on how to create templates in WhatsApp CRM and how they can be effectively used to speed up communication with current and potential customers.
💬Learn more about WhatsApp templates in CRM