WhatsApp has become an essential communication tool with customers for many businesses across the world. Messengers take companies closer to their potential customers and their popularity and ease of use bring higher response rates and a better customer experience.
The potential of using WhatsApp for business is huge but chatting through the app directly on your phone greatly limits the full capabilities of business to customer communication. You can only do so much using one phone to answer messages from potential clients..
As the WhatsApp number is tied to a single mobile device, your team is not effectively involved in the communication process. With only one person answering messages you lose precious time and are not able to adequately manage your leads.
Adding your WhatsApp business number to a CRM unleashes the full potential of WhatsApp as a channel for communication with customers. And the benefits for companies are many, a true game changer. 👇
Team benefits of using WhatsApp in a CRM
Adding WhatsApp to a CRM unlocks many features and structures the lead management process using a sales pipeline and automations. Here's how you will achieve more sales together 💪
Team wide WhatsApp access
Adding WhatsApp in Kommo lets your whole team:
View and respond to messages received through WhatsApp. The app is no longer limited to a single phone and user and you will be able to easily respond to hundreds of messages every day.
When a potential customer writes to you for the first time, a lead card is created and a notification is sent out to the users in Kommo.
If a lead already has an assigned responsible user, they'll be the only ones to get a notification. (the rest of the team won't get distracted)
You'll never miss out on a new lead and your team will be able to swiftly respond to WhatsApp directly from the lead card. 😎 You might even use templates if you want to speed things up even more. ⚡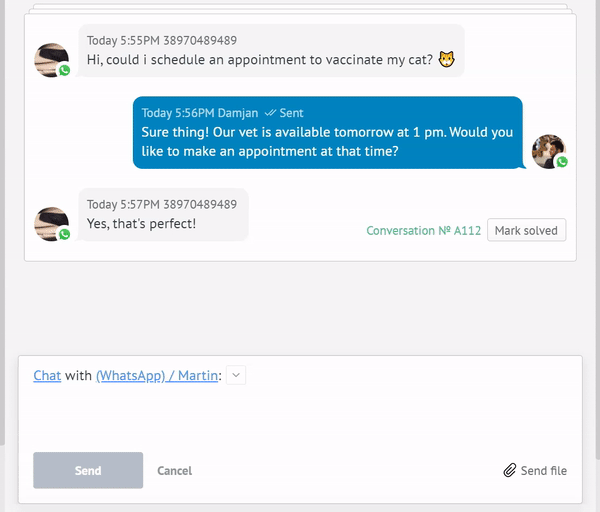 WhatsApp chat inside a Kommo lead card
Team collaboration
A helping hand is always welcome 👋 You can:
Chat internally with colleagues directly in the lead card
Easily reassign responsibility
All of the communication history and important details are neatly saved in the lead card. So whoever takes over and helps, will have all of the information at disposal. 🤓
If my colleague is an expert at a certain kind of service, I can request her help to take over a potential customer. I can just write to her in the lead card and she'll receive a notification. And the transition is spotless, she can take over and immediately write to the customer. They won't even know the responses came from different team members.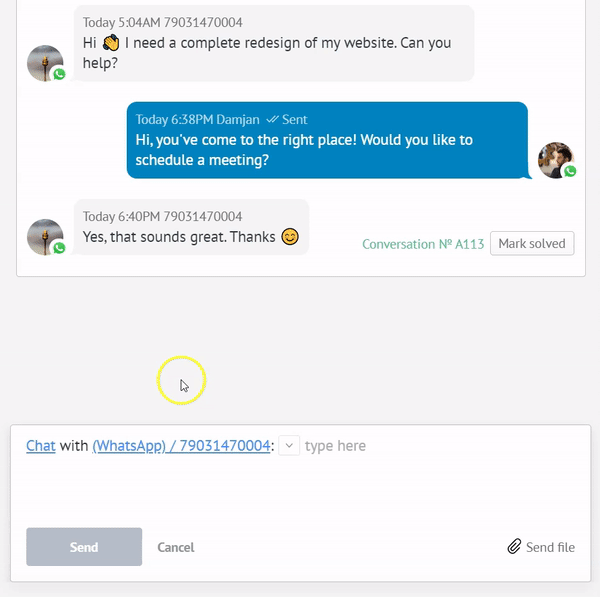 Internal team chat in the lead card and responses by WhatsApp
Adding and automating tasks
With many customers and messages, it is easy to forget to reply or do a follow up. 🥱 Kommo will help you structure and optimize your communication with potential customers through WhatsApp.
Set up a task in Kommo in just a few clicks.
Each task is added in the user's calendar and they'll receive a notification for any upcoming tasks.
Lead cards with upcoming tasks are marked. Green (task is for today), Red (task is overdue), Orange (no tasks assigned).
Set up automatic tasks as soon as a lead is created, moves to a stage or depending on various actions.

Here's how I can quickly set up a task for the colleague which helped us in the gif above 🙂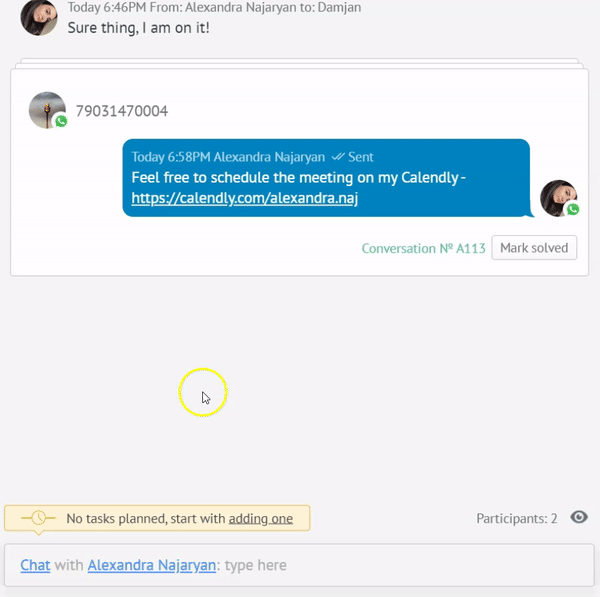 Setting up a task in Kommo
Adding users and managing rights
Adding a user is as simple as typing in their email address in the users section. You can also easily manage the rights of users in your Kommo account according to their roles within the company.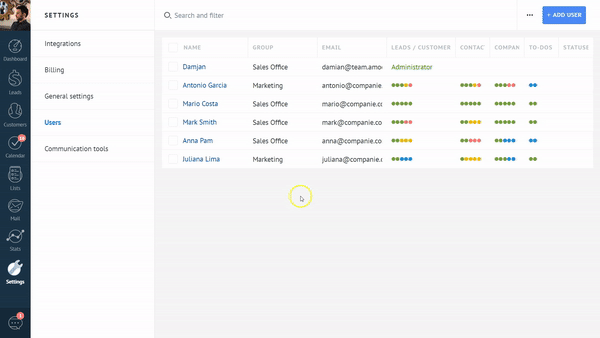 Adding a user and managing their rights in Kommo
Notifications and reminders
Each user has their own notification center. Any new WhatsApp messages will show up in the pipeline and as a notification as well. If a task is upcoming or overdue, it will also pop up as a notification.
You'll always be fully in control of the tasks and upcoming events during the sales and marketing process. 🧐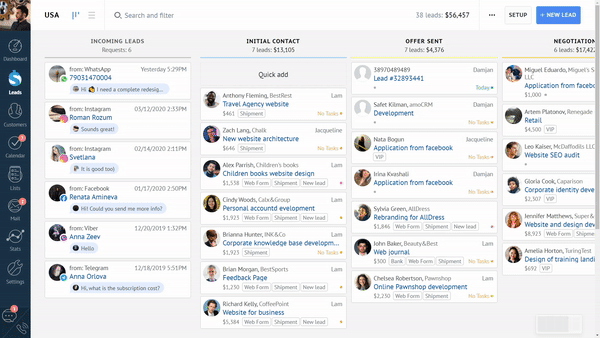 Notification center in Kommo
Wrap up
Connecting WhatsApp to a CRM will allow you to use the full potential of customer communication through messengers. WhatsApp chats create lead cards in Kommo and the whole team is able to respond to a message directly from the card.
It transforms WhatsApp into a scalable and effective tool for chatting with potential customers. With features such as internal chats, complete overview of the lead history, automatic tasks and notifications you'll be able to take your sales process to the next level.
💬Learn more about the #1 WhatsApp CRM