Conversational AI has been the talk of the town lately. Businesses worldwide are employing chatbots to enhance user experience, drive organic traffic and increase their overall ROI.
Did you know that according to statistics, chatbot market will reach a whopping $9.4 billion in 2024 compared to $2.6 billion in 2019?
Now, that is a game-changer for all the marketers around the globe.
Given that chatbots are often used for support, assistance, advice, transactions and more, its usage is not limited to large organizations. Instead, individual marketers and experts are building their bots through readily available tools.
But what's the need for a chatbot? Well, bots are an excellent investment for gaining monetary returns.
Let's delve into some techniques of making money with chatbots.
The lead generation tactic
Marketers are burning the midnight oil to generate quality leads. While monetization options through chatbots are still in a preliminary stage, marketers are gradually welcoming the idea of chatbots as a lead generation tactic.
Your chatbot must be a mini expert in delivering actionable insights or information to the online visitor who wants some advice or has any questions regarding the product or service.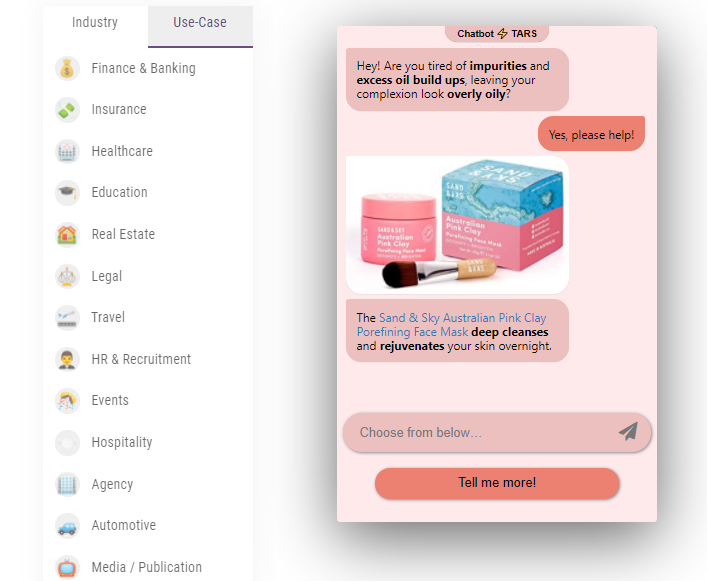 Example of Hellotars chatbot
For example, imagine someone needs certain information about email marketing software. The visitor can't find anything useful on the web and ends up interacting with a chatbot.
They may ask about software's features, pricing, or even comparison of different email marketing software from the chatbot itself. Let's say the visitor asks the difference between SendX and Constant Contact. The chatbot gives a link to the exact resource requested by the visitor.
As the conversation continues, the chabot can gather the information from the visitor. For instance, it can ask for their email, their industry or profession.
Finally, the chatbot can offer the visitor to speak to the company's sales rep.
In case they agree, the bot will pass all the information to the respective person of the company who will further follow up with them. This process can not only personalize the conversation but also generate leads.
To make it more clear, here's a short summary:
You create a lead generation chatbot
The chatbot helps in validating and verifying the lead
The chatbot sends the information about the lead to your sales reps.
Chatbots & affiliate marketing
Affiliate marketing is an excellent way to earn a fair amount of money. Using chatbots as a monetization strategy to earn affiliate income has been gaining momentum among the affiliate marketers.
If we put the process of affiliate marketing into a few words, it would be identifying the product that people search the most, creating your website or landing page to drive traffic, running promotional campaigns or ads, and finally earning some profit.
According to research, in 2016, affiliate marketing recorded an average of more than 21% and 31% on order values and orders per customer as compared to other marketing channels, respectively.
To earn a good affiliate income, you can develop a chatbot that feeds actionable information to the visitors, thereby, using the affiliate links to direct them to the landing page associated with it.
Of course, email marketing is an essential marketing channel. And there are ample email marketing software for affiliate marketers, but using chatbots as a monetizing strategy is another way to never miss an opportunity for earning an additional affiliate income.
Bots as a service
Chatbots are revolutionizing the technological landscape in both B2C and B2B business environments. This AI creation empowers companies to automate tasks and operations without bearing extra labor costs. How awesome is that?
By leveraging the bot technology you can save costs on expensive SaaS tools. As a result, you have increased productivity and a higher ROI.
If we talk about Microsoft's cloud bot service, it provides you with the opportunity to build and manage smart bots. Furthermore, you may leverage the integration option of cloud computing with Microsoft's Cognitive Services.
You can choose the type of bot service you want as per your business needs. You can create a bot framework or use the bot as a platform service.
Simply put, the bot framework, launched by Microsoft, can be used to create intelligent applications. But if you don't want to explore the technicalities, you may use the existing messaging platforms, such as Facebook Messenger.
Place a chatbot on your landing page
Landing pages are the first preference of marketers for generating quality leads and identifying potential customers. Going forward, marketers are exploring the option of conversational landing pages via chatbots.
This exploration is simply to enhance the user experience and provide value to the visitors so that they complete the sales cycle. Moreover, everyone is on their go with a mobile device in their hands. Most of them prefer to ask away their doubts on the chat, rather than jumping from one web page to another.
Gone are the days when only a developer could build a chatbot. Today, there are ample chatbot building tools that can be used to make intelligent chatbots.
Salesbot, for instance, can not only engage users, collect their information, qualify leads or connect to the sales person, but even measure NPS. Most importantly, you can build it with zero coding skills.
Salesbot measuring NPS
With robust tools to build a bot, you only have to work and focus on your messages and tone. If you provide the right information to the right prospect, you will have a monetary gain.
We have our fair share of experience with chatbots. Besides the pop-up forms, messages from the bots grab our attention. Not many bots are successful and competent in providing the necessary information to visitors.
Why?
The reason lies in the conversational tone and quality of the information. Rather than providing the visitors with multiple options or fluffy text, give them actionable and clear information. If you don't make your conversation sound robotic, chances are, you'll experience a rise in your conversion rates.
💬 Wanna get a personal feel of what Salesbot can do for you?
Let your chatbot be the expert
Expert in any domain? Create a chatbot, give your valuable inputs and get paid. Yes, you can earn a good amount of money per conversation.
You don't have to be from a technical background to carry out this procedure. You can be a health coach, marriage counselor, career advisor or an investment advisor.
Let's see how this works.
Suppose you have built a chatbot and a visitor lands in the chat box. Follow the conversation.
Visitor– Hey. I wanna know how to lose 3Kg in one week.
Chatbot- Hey there!👋 I'm Bob. What is your name?
Visitor- My name is Sam.
Chatbot– Ok, Sam. What's your height? I can quickly show the average BMI?
Visitor– G-M, A-28, H-180.4cm
Chatbot– Your average BMI should be between 18.5 – 25 and your average weight should be between 60.2 – 81.4 kgs. If you are not hitting the average scale, then I suggest you speak with our expert. Want to book a conversation?
Visitor– Sure!
Chatbot– Can I have your phone number?
Visitor– +1 XXXXXXXXXXX
Chatbot– Thanks. Daniel will be your health coach and he will get in touch with you shortly. Ping me if you need anything else.
So if you were a health coach or consultant, your chatbot has just got you a potential customer. It can arrange a call consultation for you according to the set time duration.
If you are an expert in any domain, consider building a chatbot. Let the bot do the groundwork for you and schedule your meetings.
A wrap-up
Chatbots are a revolution in terms of the power of AI and deep learning. Although it's still in a nascent stage, marketers and businesses accept this technology with open arms.
Talking about individual contributors and freelancers, bots are an excellent way to earn a good income.
What do you think? Are you up for building your bot? Put your thoughts in the comments below.