You've been asking for it: now we're delivering! The Kommo team has built our own WhatsApp solution, especially suited for small businesses.
Now entrepreneurs can connect their personal WhatsApp or WhatsApp Business accounts. In contrast to our WhatsApp via Twilio integration, which is designed for larger businesses, our new integration makes sending WhatsApp messages absolutely free for small businesses .🤯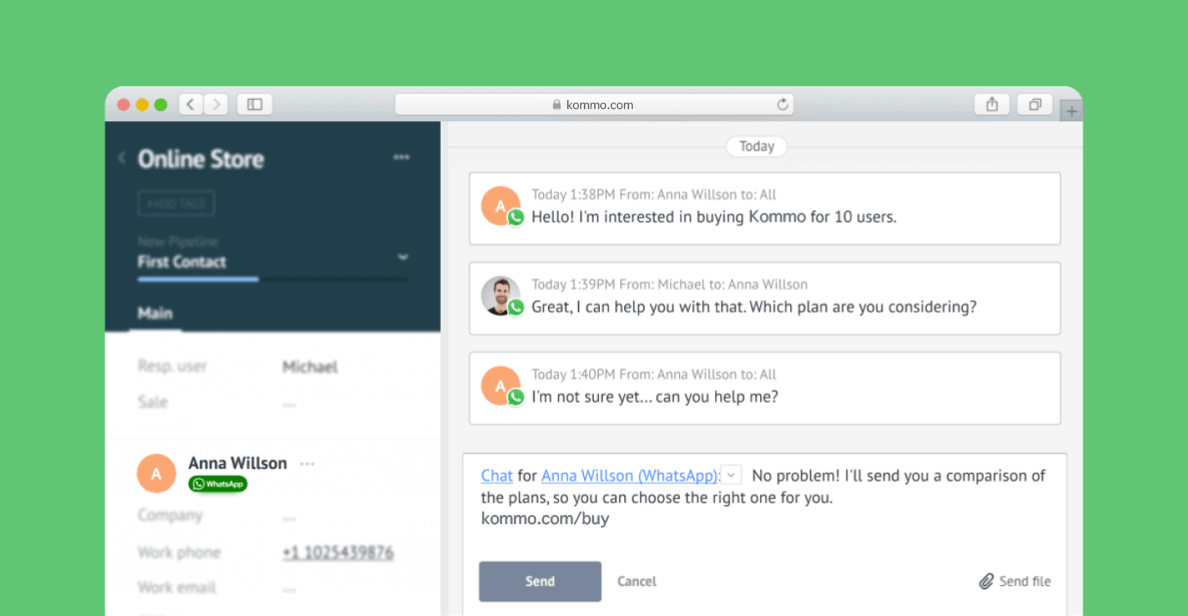 ⛓️ This integration is off the chain
For those of you who have been relying on WhatsApp Web or the mobile app, this integration is something to celebrate:
One less app to switch to
Now every Kommo account includes a unified inbox with WhatsApp and 6 other popular messengers: Facebook Messenger, Instagram, Telegram, WeChat, Viber and Skype. And you can send and receive messages from any and all of them directly inside the lead card!
WhatsApp for the whole team
Anyone who's tried to share WhatsApp with their team knows that it's a nightmare: you need to share a single device, it's hard to keep track of who's doing what… the list goes on. Luckily, the WhatsApp for Small Business integration means that any user in Kommo can get access (if you grant permission), and get their own task management!
💬 Wanna know more about sharing WhatsApp? Read about WhatsApp for Teams
All your threads in order
The best part, though, is that if you're a WhatsApp-lover who's never used a CRM, this integration brings so much order to the chaos of your sales process.
That is… it's amazing to use WhatsApp for sales, but the world's favorite messenger app wasn't actually designed for doing business: its interface was built for casual chatting.
But it is an incredible way to connect with people.
So that's why we wanted to bring the power of WhatsApp to the order of Kommo. Our pipeline helps you zoom out and get a better view of all the conversations you're managing. It gives you a board-like view where you can see exactly where each lead is in the process and whether there's a task that day.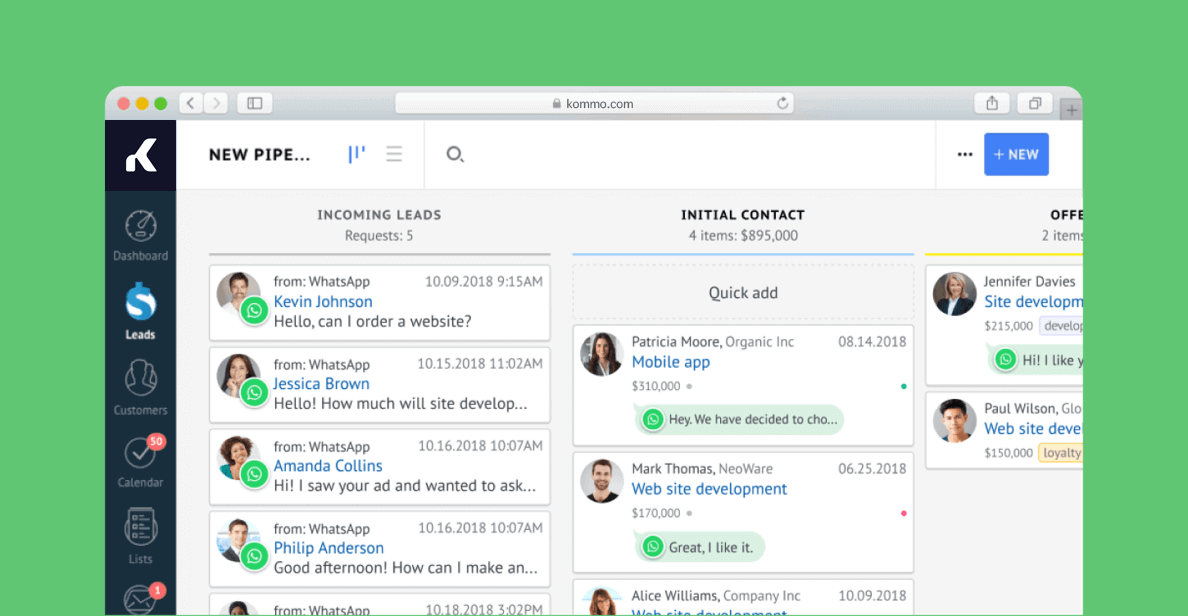 ⚙️ How to set up WhatsApp for Small Business
Get ready to get your mind blown — setting up WhatsApp for Small Business takes two minutes flat. You literally head over to our in-app integration section (Settings > Integrations > WhatsApp for Small Business), and then scan a QR code.
It's as easy as using WhatsApp Web.
Then once you're connected, you get these amazing benefits:
Capture leads automatically
When a new potential customer writes to you, a new lead is created in your pipeline instantly.
Chat in the lead card
Send and receive messages right in the lead's profile, so every interaction is logged in one place.
Speed up your follow-up
Use templates to manually send messages lickety-split, or automatically send messages with…
Salesbot for WhatsApp
Respond instantly and keep your virtual doors open 24/7 with a chatbot for WhatsApp.
Want a free consultation with the team about how to use WhatsApp for your business? Book a free demo
🔥 3 killer WhatsApp tactics you can steal now
Ready to start using WhatsApp, but need some ideas? Here are a few to kickstart your messenger-based sales strategy. You can also find more inspiration in our WhatsApp blog.
Add an engagement button to your website to encourage web visitors to connect with you on WhatsApp and other messengers
A video is worth a hundred thousand words: give superior tech support in WhatsApp by sending video snippets instead of typing how to do something
Generate leads by adding a WhatsApp button to your business' Facebook page and advertise with a call to action to message you on WhatsApp