Our ancestors used couriers and pigeons to transfer urgent news across the world or send a letter to a loved one. 🥰 Since then we invented the telegraph, telephone, the internet and now we've got smartphones which completely revolutionized human communication. Distance is no longer an obstacle to communicate in real-time with people across the world. 🌍 Messengers are the most popular tool to keep in touch with friends and family or talk to colleagues and businesses. And this is the realm where WhatsApp rules. 🤴 The messenger giant is the most popular chat tool on the planet. But how popular is it really? 🤔 In this article we will cover all of the important and fun statistics (yes, fun statistics) which will give you an insight of how powerful WhatsApp is as a communication tool and why it has become a playground for businesses as well. You'll find: 👇
WhatsApp user statistics
The messaging giant has won the hearts of people all across the world and the statistics behind WhatsApp's success are mind-blowing. 🤯
Total number of WhatsApp users
WhatsApp has a staggering 2 BILLION users as of February 2020. It is the most popular messenger app in the world, leading the pack with a comfortable lead in front of Facebook Messenger with 1.3 billion users and WeChat with 1.2 billion. (Source: WhatsApp) It is no wonder everyone I know has a WhatsApp account. 🤔
WhatsApp leading countries by number of users
WhatsApp is the most popular messenger app in 100+ countries. The top 10 list of countries with the highest number of users in 2019 (Source: Statista): 1. India – 340 million 2. Brazil – 99 million 3. United States – 68 million 4. Indonesia – 60 million 5. Mexico – 57 million 6. Russia – 54 million 7. Germany – 44 million 8. Italy – 33 million 9. Spain – 30 million 10. United Kingdom – 27.6 million Here's a map which shows all of the countries where WhatsApp is the #1 leading messenger app (marked in green). In most of the countries marked in gray, WhatsApp has a very strong market presence and comes in second to Facebook Messenger.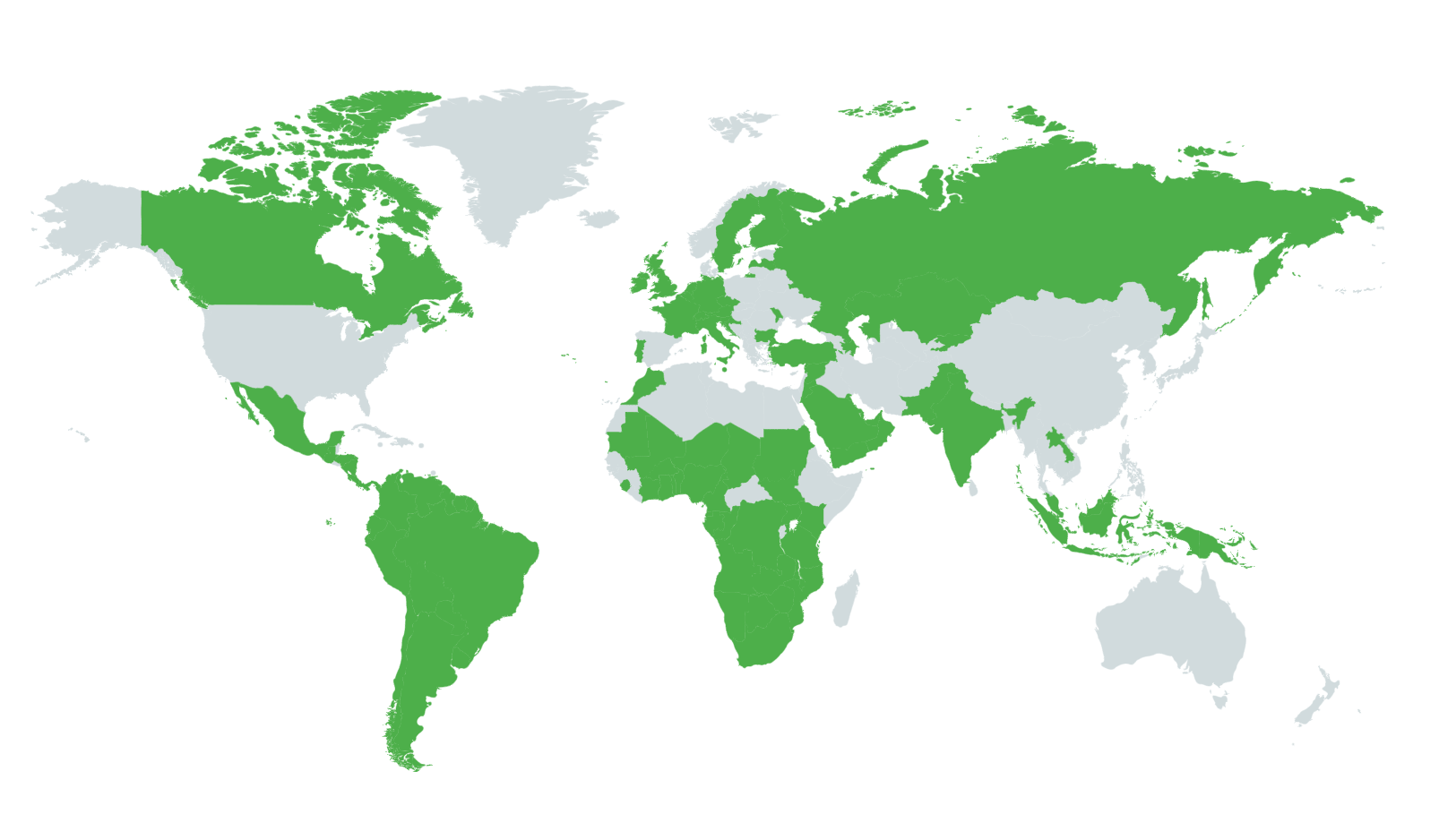 WhatsApp as the leading messenger app (marked in green)
WhatsApp Status daily active users
The number of daily active WhatsApp Status users is growing steadily. At the begging of Q1 in 2017 WhatsApp had 175 million daily active status users. Q1 in 2019 that number has grown to 500 million people using WhatsApp Status every day. (Source: Statista)
Number of daily active WhatsApp Status users worldwide
WhatsApp monthly active users
WhatsApp has 2 billion users which actively use the app every month. The number of users has grown from 200 million in April 2012 to 2000 million in March 2020. (Source: Statista)
Number of monthly active WhatsApp users worldwide
WhatsApp download statistics
Numbers show that WhatsApp just keeps on growing! In February 2020 it was the second most downloaded app in the world coming behind TikTok at number one. In February 2020, WhatsApp was downloaded 96 million times, which is a 42.4 percent increase compared to the same period in 2019. (Source: SensorTower) WhatsApp user demographics Let's take a look at some demographic statistics from across the world:
In Austria 85% of teenagers use WhatsApp. (saferinternet.at)
In Brazil where WhatsApp is extremely popular 76.3% of the users are in the 15-44 age group.
In Germany, around 95% of young people aged 14-29 use WhatsApp. (fortunly)
In Italy, WhatsApp is extremely popular in the 25-54 age group. (messengerpeople)
In France, we have a nice statistic which says that more than 30% of people above 60 years old actively use social media such as WhatsApp. (wearesocial)
Top countries WhatsApp user penetration
According to eMarketer and We Are Social, WhatsApp has a strong market penetration in many European and Latin American countries. Percentage of smartphone owners which actively use WhatsApp: Europe:
Netherlands, 85.6%
Italy, 85.3%
Spain, 84.3%
Germany, 83,4%
Finland, 82.1%
Latin America
Uruguay, 72%
Chile, 71%
Argentina, 70%
This means that almost anyone with a smartphone in these countries, uses WhatsApp. That's very impressive! 🕺💃
WhatsApp growth per country
The giant keeps on growing. 💪 According to data from Statista, WhatsApp had the highest growth in Q1 of 2020 in the following countries: Increase of downloads through Google Play (Android)
Highest WhatsApp download growth in countries (Google Play)Increase of downloads through the Apple Store (iOS)
Highest WhatsApp download growth in countries (Apple Store)So in the future we can expect to see WhatsApp continue breaking records and move even higher from its current 2 billion users.
Average time spent using WhatsApp
The average WhatsApp user spends around 28 minutes on the app daily and opens it between 23-25 times. (Source: BroadbandSearch; TechJury) Some numbers will astonish you. For example in Brazil, the average daily usage time is 60 minutes! 😲 France "only" 23 minutes, Germany 40 and India with a solid 38 minutes of daily activity. (Source: SimilarWeb)
WhatsApp features statistics
We found out WhatsApp is extremely popular and has many users. Now let's take a look at some numbers which show how much they use WhatsApp's features to communicate among each other. 👇 Number of messages sent per day on WhatsApp Data from 2018 shows that WhatsApp users send a whopping 65 billion messages every day. (Source: Business Insider)
WhatsApp calls total minutes per day
When we say WhatsApp we always subconsciously think of chats and messaging. But the app has some impressive numbers behind its calls feature. In July 2020 we found out that people spend 2 billion minutes per day, making calls in WhatsApp. (Source: WhatsApp)
Daily average number of WhatsApp calls
As you already got the point, here we count in figures of millions and billions. 🤪 There are more than 100+ million daily calls made in WhatsApp. (Source: TechCrunch) WhatsApp number of available languages WhatsApp is really smart and it speaks in more than 40 languages on iPhone and 60 languages on Android. (Source: WhatsApp)
WhatsApp Business statistics
WhatsApp launched 2 products, WhatsApp Business App and WhatsApp Business API specifically designed for businesses which helps them connect with their customers on the world's most popular messenger app.
💬 Check out our complete guide on WhatsApp Business.
Number of companies using WhatsApp Business
WhatsApp Business has become a huge success after its launch on Android in 2018 and iOS in 2019. At the start of 2019 more than 5 million companies already used it for communication with their customers. (Source: Pymnts)