Video bots: how can they help your business?
Despite being one of the latest trends in digital marketing, chatbots have already proven their ability to help online businesses improve customer support and increase website dwell time.
Available 24/7 and able to answer the most common questions effectively, chatbots improve customer experience by providing customers with instant attention and, in many cases, personalized service. That's why more than 70 percent of companies now report having AI-enabled applications – these include chatbots – in use or under development.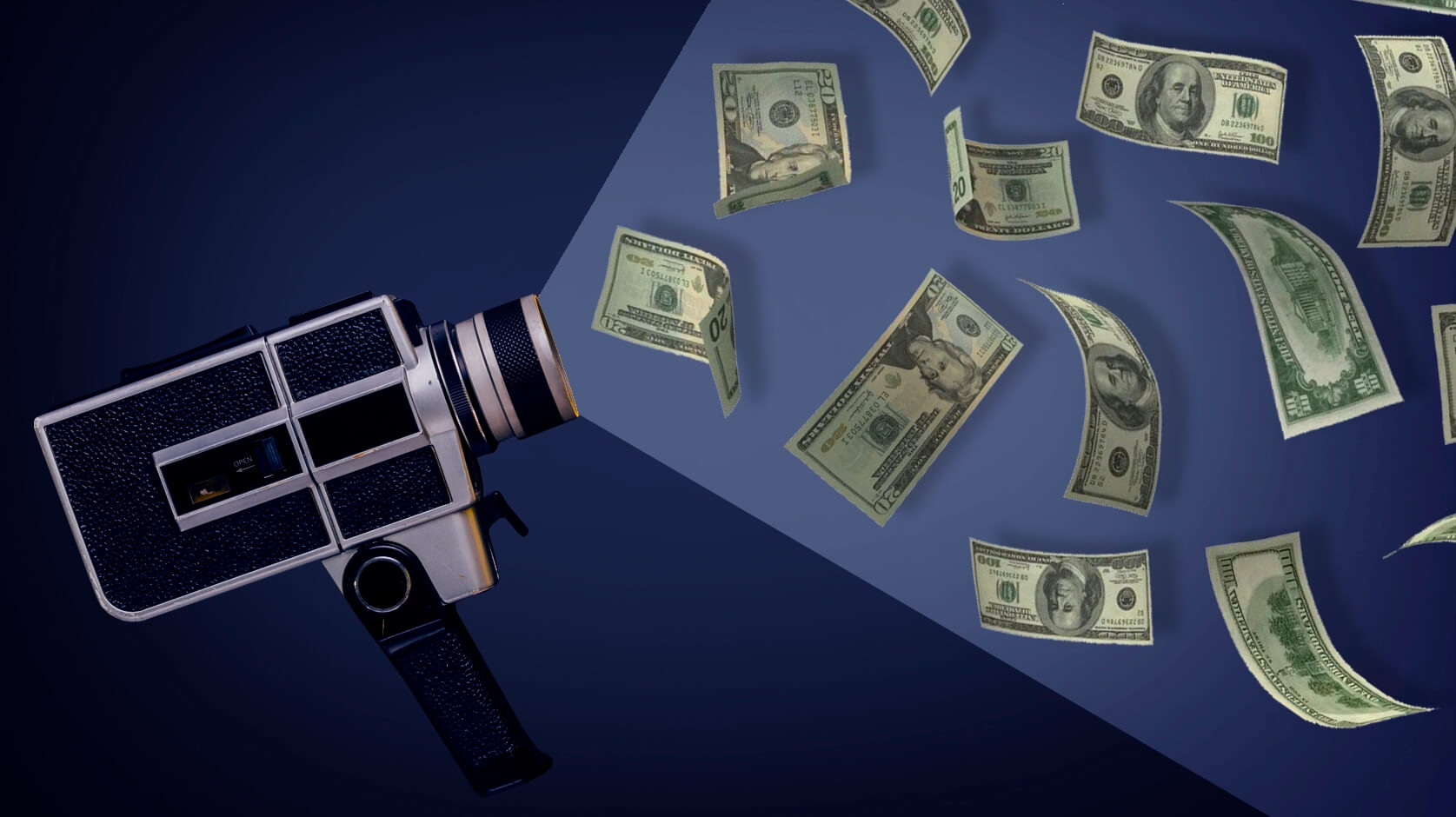 If done correctly, chatbots can be very helpful in solving typical service requests or finding the right products and services, but their effectiveness can be increased even more with video.
Let's find out how video bots work and what makes them the next big thing in digital marketing and sales.
What the heck is a video bot?
A video bot is a video of a person that is automatically shown to website visitors by a chatbot. Video bots can improve personalization as well as automate conversions, as they can drive people to take action, whether on a website or in an app.
You might think that a video bot would be a video that contains a visual version of a chatbot, but it doesn't work this way. Having an animated image of a chatbot speaking to you is not a good way to make the interaction pleasant. At worst, the animation can look a bit creepy and scare customers away.
Many people can remember cases like two chatbots talking to each other on Facebook in some kind of a secret language, which resulted in the social media network shutting down both.
A video bot would be communicating with customers via pre-recorded video with a human and a chatbot's functionality. This is the best way to nurture leads and communicate in a way that won't scare anyone away; moreover, it's a super user-centered way that improves customer experience and has the potential to help with achieving sales automation.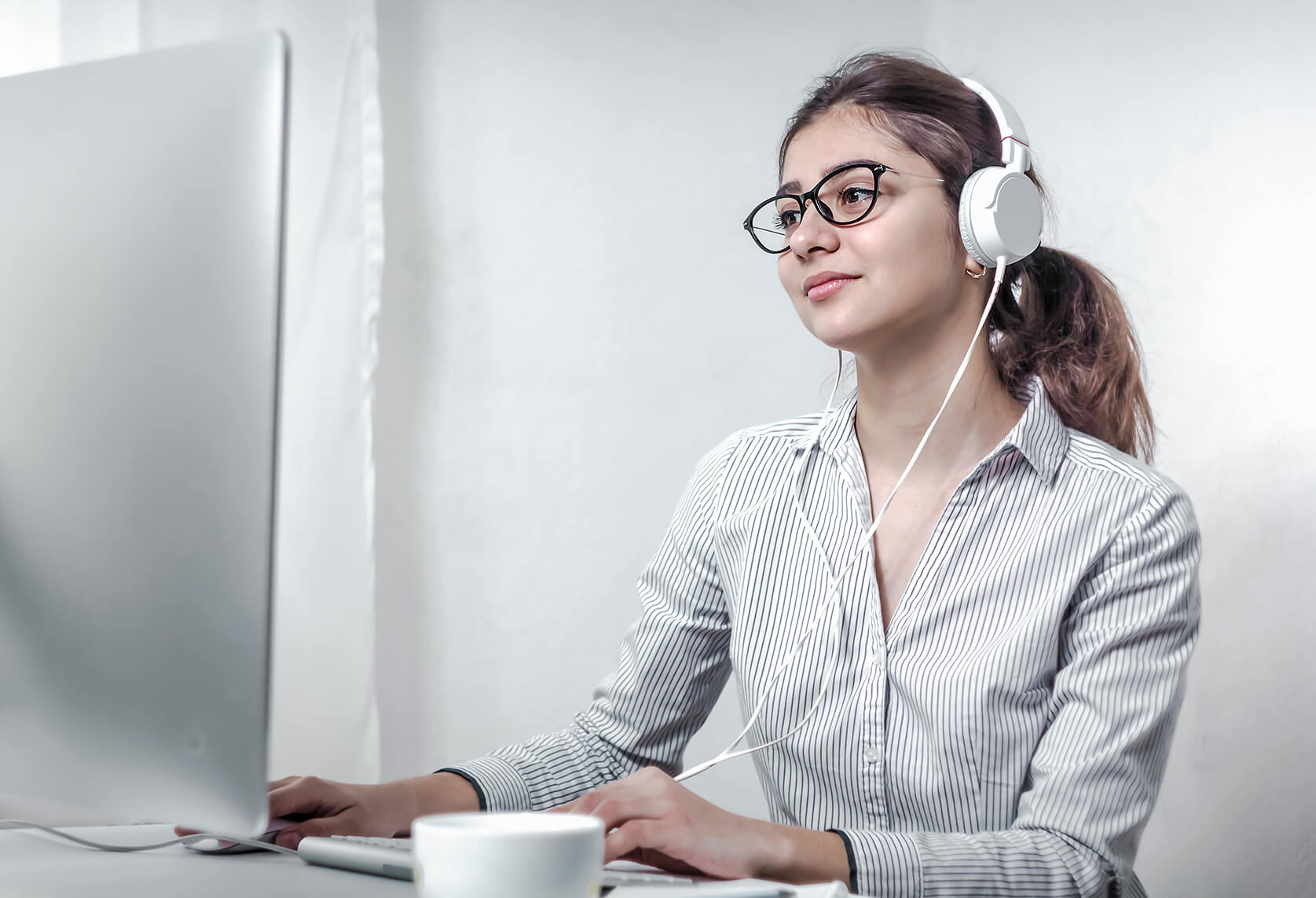 On top of that, video is another reason why such a bot would be successful. Video is known to increase sales because of its unmatched ability to provide a lot of useful information and engage customers. What can you do, most people are visual learners, so we love video.
Video bots and sales automation
Let's suppose you're looking to buy an apartment. A friend of yours told you about this recommended real estate agency that did a great job for them, and you're interested in knowing more. They had a representative contact you and now you definitely want to meet with them in person and talk about how to make a purchase.
And, by the way, if we're going to do this, let's give you a good name, Booker.
The first step is to go to their website and book an appointment. This sounds boring, right? Hold on just a minute, that's where video bots come in and change the way we think of appointments. Once you're on the website, you start chatting with a chatbot and receive a personalized video from the representative you spoke with on the phone.
The smiling face in the video tells you the following:
"Hi, Booker! I'm your dedicated real estate agent. I know you wanted to set up a meeting, so please go ahead and set the time that works for you. The time and date options are below this video."
So, you're thinking, "oh, wow, they even made a video for me. Okay, sounds good."
Just like the agent said, you find the date and time options below the video. They're presented as buttons – just like the way chatbots do it – so you quickly set up the date and time. The interaction is clear and to-the-point (chatbot UX is critical).
Done. The only thing left is to meet and talk. No need to call anyone to negotiate a time that works for everyone.
That worked well, right? Plus it was super personalized and relevant, so you feel like that agency has given you the attention you deserve. Undoubtedly, a video bot plays a critical role here because it collects your input and creates that feeling of personalized service.
And we know it very well that personalization works.
"Not only does it help you to sell more, but it also builds brand loyalty and improves customer relationships," says Glenda Morrison, a digital marketer from Pick Writers. " Traditionally, personalization is associated with CRM where businesses interact with customers in a way they thought was relevant to them, but new tools like chatbots surely have taken personalization to the next level."
Regardless of the way you choose to interact with your target audience, personalizing communication is a must. In fact, 74 percent of digital marketers say that personalization had either "strong" or "extreme" impact on advancing relationships with customers.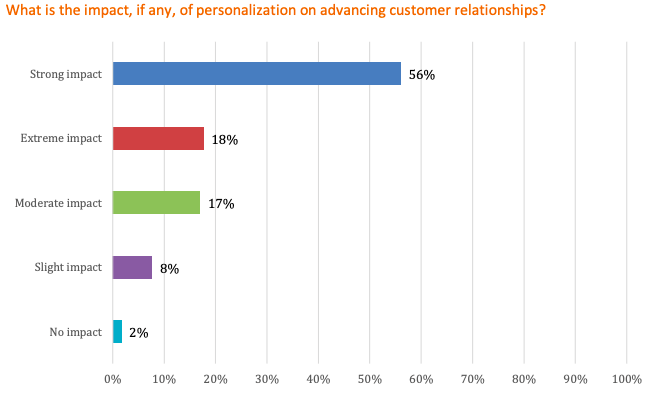 Evergage Inc. 2018
So, to summarize the above scenario with a real estate agency, this video bot can:
Accelerate the buyer's journey
Make a great impression on the customer
Personalize the service
Automate sales by delivering a relevant message in a contextually relevant timeframe based on the customer's previous interaction with the business
Video bots for eCommerce
Video bots can work for most businesses, with eCommerce companies being one of the most interesting cases to talk about. For example, let's suppose that you'd like to automate the steps that you want your customers to take to convert without losing context.
The examples of these steps include:
Find a product with personalized finder
Upgrade their membership
Request a demo for your new product
Fill out a survey
Subscribe to your newsletter to get the latest deals
Many companies are already doing this with chatbots and messaging apps, and you could do the same. For example, the Best Buy's chatbot helps users with selecting a product by giving them specific characteristics and then redirecting them to the website's page with the personalized search results.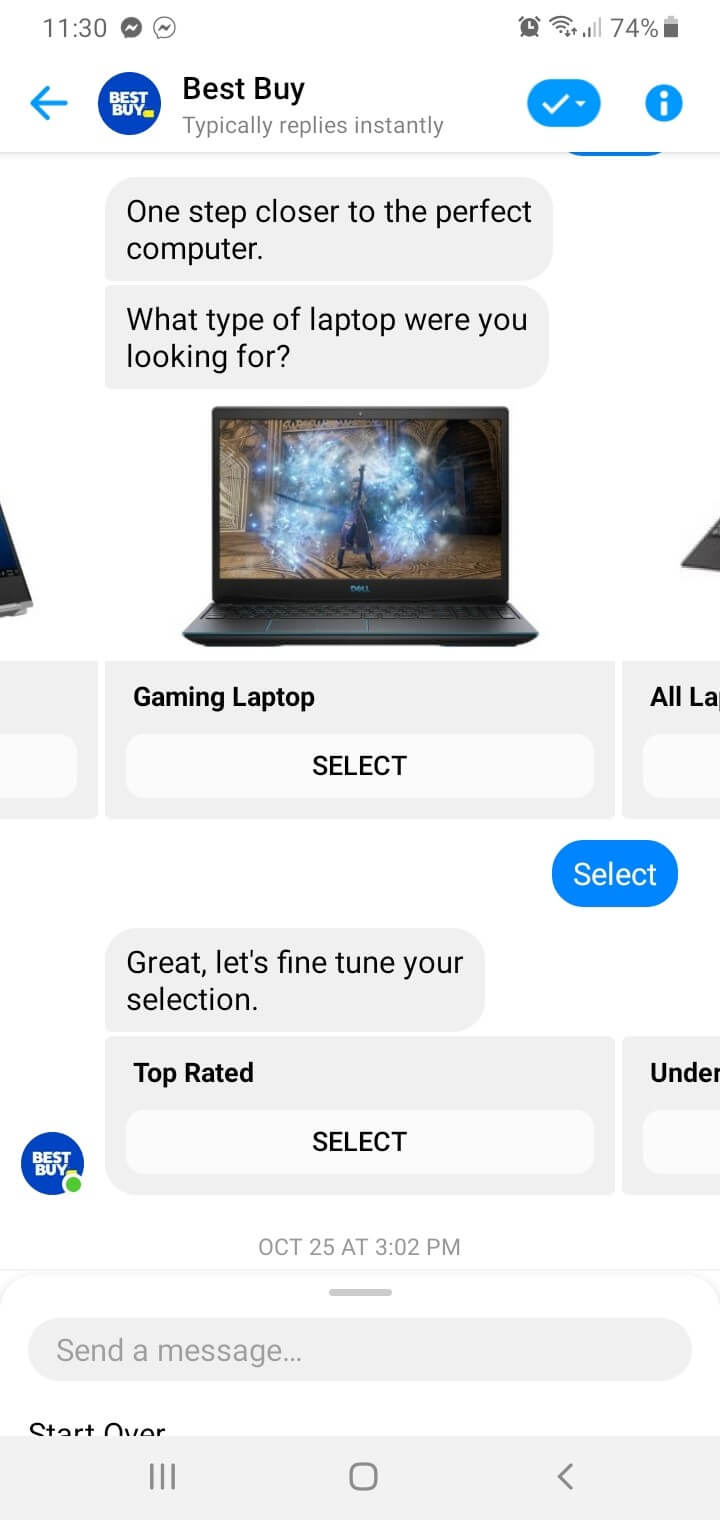 Now imagine that there's a helpful person involved in this chat. They guide you through the process of product selection, making you feel like you're speaking with a company's representative in real-time. Not only it can create a feeling of personalization, but it can also increase brand loyalty and improve brand image. On top of that, that person helps you with your choice and shows why it's good. Isn't that awesome?
Video bots as recommendations
You may be thinking, "such a big deal, it gives recommendations. I can get that by searching for myself."
Okay, that's a fair point.
If you don't believe that personalized recommendations work, listen to this: Amazon's recommendation engine, which offers products based on a customer's website behavior, is responsible for 35 percent of the company's profits (which, by the way, exceeded $10 billion last year, you do the math).
Here's one more: 75 percent of what people watch on Netflix come from product or video recommendations. That's huge.
Now, imagine if you combine relevant product recommendations with targeted, personalized videos, from video bots. You can definitely improve results.
Another great benefit we should keep in mind is that having a video bot for every customer scenario can reduce the workload for your customer support operators. With more people getting answers from a video bot, fewer people will have to engage with them via emails, live chat, or other channels that you use to communicate and answer common questions.
The bottom line
Video bots are new and innovative business tools. They can increase customer engagement, enhance personalization, and automate the steps your leads need to take to convert. Since messaging apps and chatbots are only getting more popular, it comes as no surprise that the rise of video bots is just around the corner.